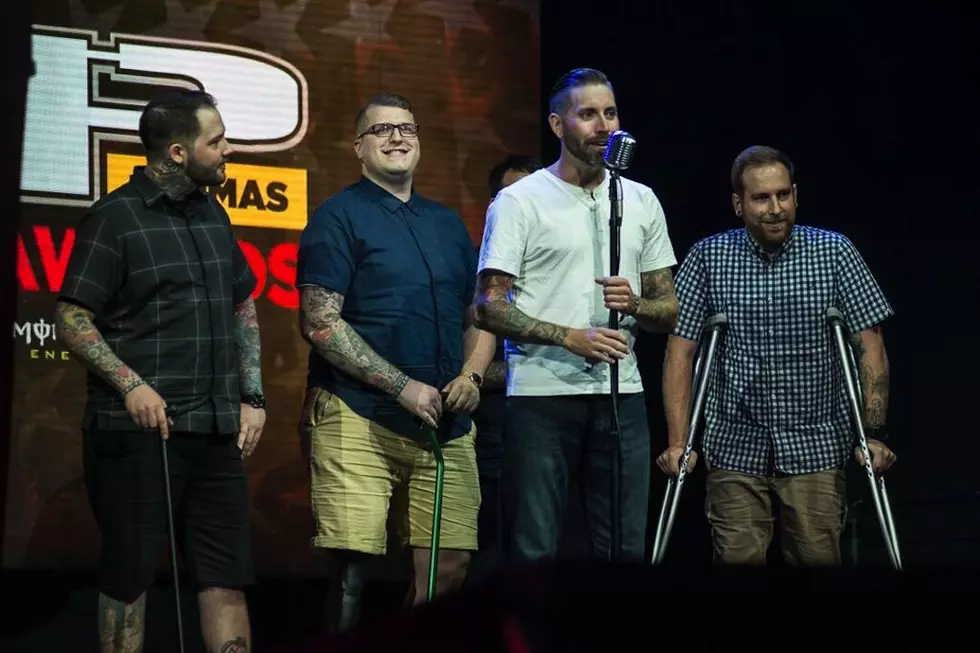 The Ghost Inside Receive Big Screen Honor at Hometown NHL Game
Geoffrey Ketler, Aces High Photography
In November of 2015, The Ghost Inside endured a horrific tragedy in which their tour bus was involved in a head-on collision with a tractor trailer. The accident left the drivers of both vehicles dead and the members of the band critically wounded. They've been positive on their arduous path to recovery and were honored for their perseverance at an NHL game in their home city of Los Angeles last night (Jan. 5).
The members attended the L.A. Kings game against the Detroit Red Wings at the Staples Center and received a nod from the Kings' organization. As seen in the Facebook video below, posted by The Ghost Inside vocalist Johnny Vigil, the game announcer called attention to the suspended screens above the middle of the rink, describing the events that unfolded at that crash.
Cutting away from the images of the accident and others showing the band throughout their recovery, the screens then turned to a live camera feed of The Ghost Inside in attendance at the game, which received an arena full of applause and cheers. Vigil exclaimed, "This is actually the craziest thing to ever happen to me," in the caption of the video.
The members of the group have undergone multiple surgeries and are still fighting their way back. Drummer Andrew Tkaczyk lost his leg in the crash, but has since returned to his kit, practicing with a prosthetic leg as he intends on getting his chops back.
The Ghost Inside Honored at L.A. Kings Hockey Game
14 Rock Acts Who've Had Brushes With Death
10 Insane Onstage Accidents
More From The Basin's Classic Rock