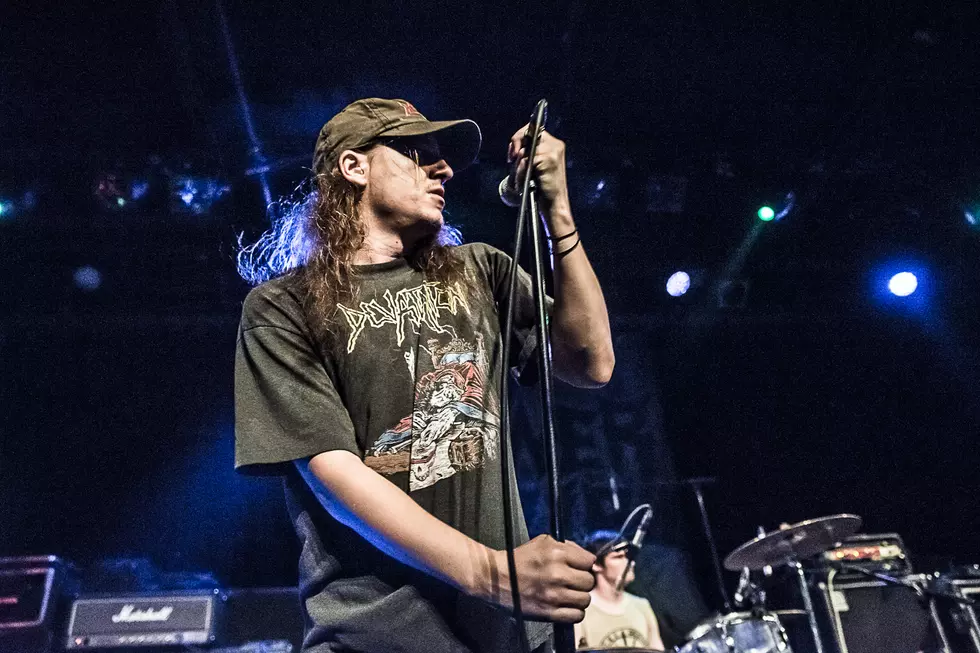 Power Trip Spreading 'Nightmare Logic' Across North America With Spring 2018 Tour
KEVIN RC WILSON, Loudwire
Power Trip dominated 2017, without question. In addition to releasing the year's best metal album with Nightmare Logic, they compounded it with smart touring decisions, equally playing to the metal and hardcore crowds that make up their DNA. They're looking to continue their wave of success in 2018 with a recently announced spring headlining tour.
Along their trek, they'll be playing with Philly DIY rock band Sheer Mag, California hardcore band Fury and D.C. hardcore group Red Death. It's a far different slate of bands than their 2017 Cannibal Corpse and Obituary treks, but it speaks to the fluidity of Power Trip's music. Sheer Mag takes classic, 70s sounding rock n' roll and imbues it with the presence of singer Tina Halladay. It's not for everyone, but it's an inspired choice that keeps the bill fresh.
The tour kicks off April 27 in Jacksonville, Fla. as part of the Welcome to Rockville festival, and heads into Ft. Lauderdale for Fort Rock. From there, Sheer Mag and the other bands join on for a headlining date at Atlanta's Masquerade. The tour hits a variety of dates throughout North America, including a healthy amount of dates in Canada and a stop at Rock on the Range. The tour ends in the band's home state of Texas in Austin on June 7.
Check out tour dates below.
Power Trip 2018 Tour Dates
Jan. 13. - Petaluma, Calif. @ Phoenix Theater
April 27 - Jacksonville, Fla.@ Welcome to Rockville
April 28 - Ft. Lauderdale, Fla.@ Fort Rock
April 30 - Atlanta, Ga. @ The Masquerade #
May 01 - Birmingham, Ala. @ Saturn #
May 04 - Charlotte, N.C. @ Carolina Rebellion
May 05 - Richmond, Va. @ Broadberry #
May 06 - Pittsburgh, Pa. @ Spirit #
May 07 - Philadelphia, Pa. @ Union Transfer #
May 08 - Washington, D.C. @ The Black Cat #
May 10 - Brooklyn, N.Y. @ Elsewhere #
May 11 - Boston, Mass. @ Paradise #
May 12 - Syracuse, N.Y.@ The Lost Horizon #
May 13 - Toronto, Ontario @ Lee's Palace #
May 15 - Detroit, Mich. @ El Club #
May 16 - Chicago, Ill. @ Reggie's #
May 18 - Columbus, Ohio @ Rock on The Range
May 19 - Chicago, Ill. @ The Empty Bottle #
May 20 - Minneapolis, Minn. @ Fine Line #
May 21 - Winnipeg, Manitoba @ The Park Theatre #
May 23 - Saskatoon, Saskatchewan @ Louis' #
May 24 - Edmonton, Alberta @ The Starlite Room #
May 25 - Calgary, Alberta @ Dickens Pub #
May 27 - Vancouver, British Columbia @ Modified Ghosts #
May 28 - Seattle, Wash. @ Neumo's #
May 29 - Portland, Ore. @ Hawthorne #
May 31 - San Francisco, Calif. @ Great American Music Hall #
June 01 - San Jose, Calif. @ The Ritz #
June 02 - Los Angeles, Calif. @ The Regent ^
June 03 - San Diego, Calif. @ Soma #
June 04 - Mesa, Ariz. @ Club Red #
June 05 - Albuquerque, N.M. @ Launchpad ^
June 07 - Austin, Texas @ The Mohawk ^
# with Sheer Mag, Fury and Red Death
^ with Sheer Mag and Red Death
Power Trip Spring 2018 Tour 
25 Best Metal Albums of 2017
Power Trip Levy the "Executioner's Tax (Swing of the Axe)" - 2017 Loudwire Music Awards
More From The Basin's Classic Rock