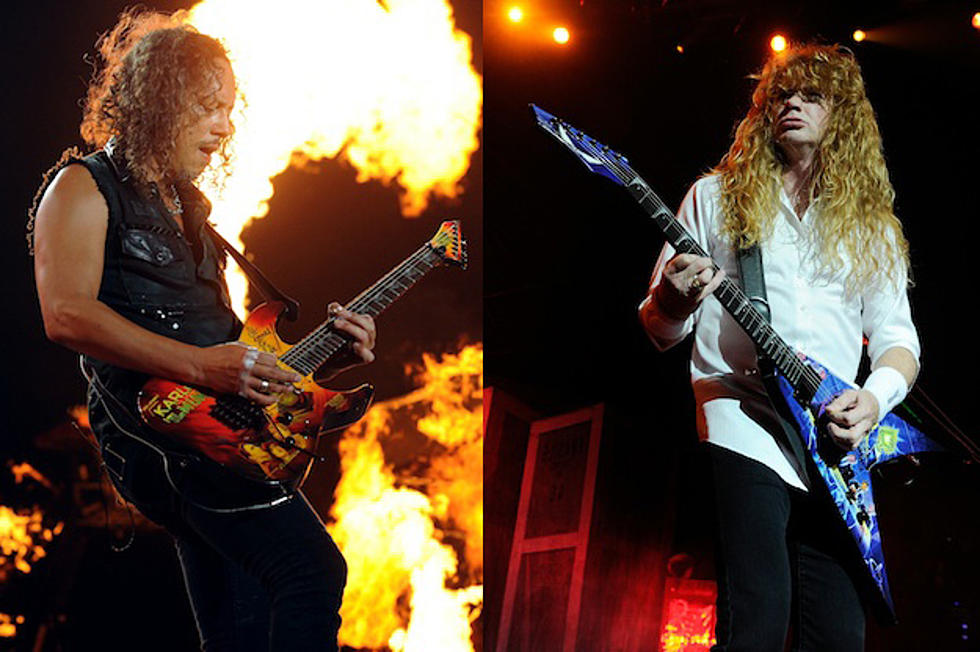 Kirk Hammett: Dave Mustaine Was 'Really Frustrated' With Metallica, But Relationship Is 'a Little Bit Better Now' [Update]
Kevin Winter and Ethan Miller, Getty Images
Update: After Kirk Hammett's comments about Dave Mustaine appeared on multiple sites, including here, Mustaine himself responded via a tweet that can be read below:
When you're one of the biggest bands ever in your genre and one of your former members goes on to have a storied career of his own, there is the tendency to reflect on that relationship and analyze how things played out. Such is the case for Metallica, who famously split with guitarist Dave Mustaine just as they were getting started in their Rock and Roll Hall of Fame career. During a chat with the Word of Wheeler podcast, guitarist Kirk Hammett, who replaced Mustaine in Metallica, shared his thoughts on the Megadeth leader and the band's once contentious relationship with Mustaine.
"Well, you know, the whole thing with Dave is I've never, ever, ever had a problem with Dave," explained Hammett. "I've always seen Dave as someone who was just really, really sad, really angry, really frustrated about his situation with Metallica, and he never could let that go. And, you know, I've always shown a lot of empathy for him, understanding that he was just pissed off. It's the equivalent of the woman of your life leaving you."
He continued, "When your band kicks you out… I've never been kicked out, but I can imagine it's a horrible experience, especially if it's a band that you feel really passionately about. So I can understand Dave's plight over all these years. But I will also say that when we did these 30th anniversary shows at the Fillmore, and we invited Dave to play on all those Kill 'Em All songs, man, it felt so good to have him playing onstage. It felt perfectly fine for me to, while Dave was playing the guitar solos, for me to go over to James [Hetfield] and play the rhythm parts with James, and it wasn't a big deal at all."
The guitarist recalled, "I could see from the look on Dave's face and just from his whole attitude that it was super-cathartic for him. And I could see how it was helping him. And so I just took it all in stride. And it's interesting, because since then, I think, Dave's relationship with us is a little bit better now. I'd like to think that that whole thing just kind of healed some scars that needed to be healed."
The shows Hammett mentioned were in 2011 for Metallica's 30th Anniversary. Mustaine and Megadeth also took part in "The Big Four" shows with Metallica since then as well, with Slayer and Anthrax filling out the thrash metal-heavy bill.
Check out Kirk Hammett's chat with the Word of Wheeler podcast below:
Top 66 Hard Rock + Metal Guitarists of All-Time
Watch Dave Mustaine in Wikipedia: Fact or Fiction?