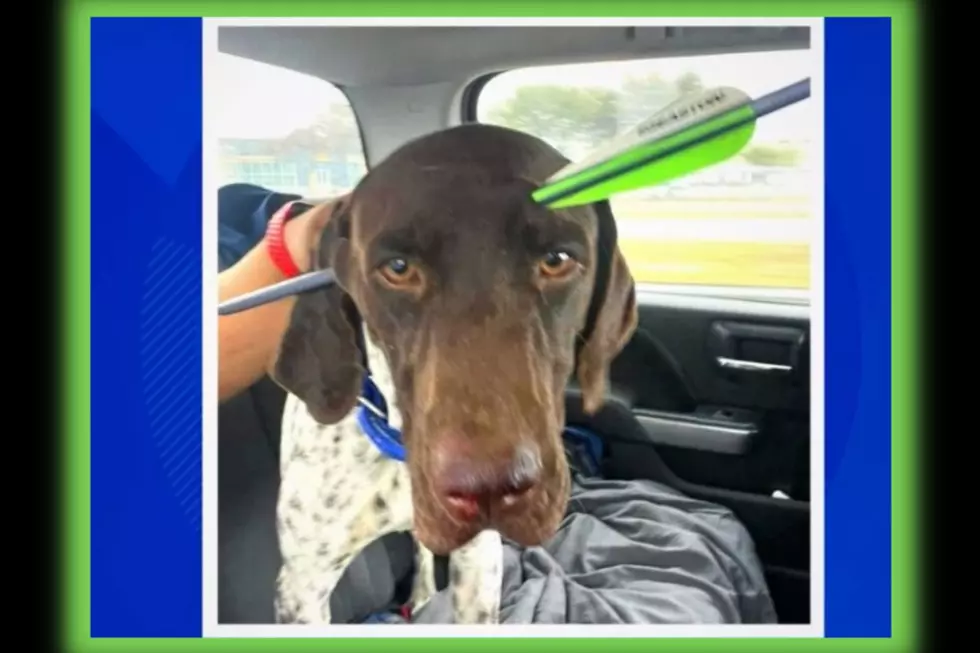 Horrific Pictures Show Insane Damage to TX Dog From Arrow
Kens5/Youtube
I'm going to start with, what kind of person intentionally shoots a dog with an arrow?
The kind of person that hopefully goes to jail for animal cruelty.
And for dog lovers everywhere, good news, that might very well happen.
When I first saw the photo, I thought it was photoshopped or a fake arrow, but, it turns out the arrow, which investigators in Medina County Texas believe was intentionally directed toward the dog's head, likely has fingerprints and a serial number.
Luckily, Boomer, the sweet hunting dog survived.
He will, however, have to retire from hunting as the damage from the arrow includes serious and permanent issues with his sinuses. It was also noted that Boomer was likely shot on his property and at close range.
As you can see, the arrow narrowly missed this sweet puppy's skull.
Boomer's owners think they know who shot Boomer in the head, but according to an interview with Boomer's "aunt" Stacee Gomez, she is going to let the 'investigators do their job' as we all hope that justice prevails.
Boomer is looking at a long recovery. 
Veterinarians advised Boomer's family that the arrow ricocheted off his skull and pierced straight through to the other side! The x-rays showed the arrow fractured Boomer's orbital bone, and nasal cavity but avoided his skull altogether.
"Had it pierced his skull it probably would have killed him instantly," said Gomez.
Boomer will need to wear a cone for several months but thankfully he is alive.
As you can imagine, Boomer will receive lots of love from his family and likely Medina community members too.
Here is the full interview on Youtube, thanks to Kens5.
ADOPT DON'T SHOP
More From The Basin's Classic Rock