Exclusive 'Game of Arms' Episode 5 Sneak Peek: Mike Selearis and Nick Zinna Pit New York Against Kansas
Subscribe to The Basin's Real Rock 99.9 K-Bat on
AMC has gone arms-deep into the world of reality competition with the advent of its latest series 'Game of Arms.' Four episodes into its inaugural season, tonight's all-new fifth installment will pit New York City against Kansas City, as Mike Selearis takes on Nick Zinna, and Tom Nelson faces Cobra Rhodes. Before tonight's epic matchup, we have an exclusive clip and photos of the fifth episode's competitions, from the network behind the likes of 'The Walking Dead' and 'Breaking Bad."
For those unfamiliar with the concept, AMC's 'Game of Arms' looks inside the raw and highly competitive world of American arm wrestling, following members of five regional clubs in the US, including Erie, PA, Kansas City, KS, New York, NY, Sacramento, CA and Baton Rouge, LA. The competitors travel around wagering reputation, relationships and even money, as the series focuses both on the technique and skill of the sport, as well as the competitors' family, career and personal struggles.
In our exclusive clip from the newest episode above (as well as the first photos below), tactician Mike Selearis (New York City, left) matches up with humble farmer Nick Zinna (Kansas City, right), the latter appearing to have a definite edge on the former, at least for the moment. Our second exclusive photo from the fifth installment of AMC's 'Game of Arms' features New York's Tom Nelson (left) against Kansas City competitor Cobra Rhodes (right), but you'll have to tune in for the actual winners!
'Game of Arms' arrives from Emmy-winning 'Deadliest Catch' producers Matt Renner and Ethan Prochnik, along with Undertow Films partner Dan Ilani. Take a look at New York's battles against Kansas City in the exclusive sneak peaks above and below, and tell us in the comments if you'll tune in for AMC's latest reality competition tonight at 10:00 P.M. / 9:00 P.M. Central!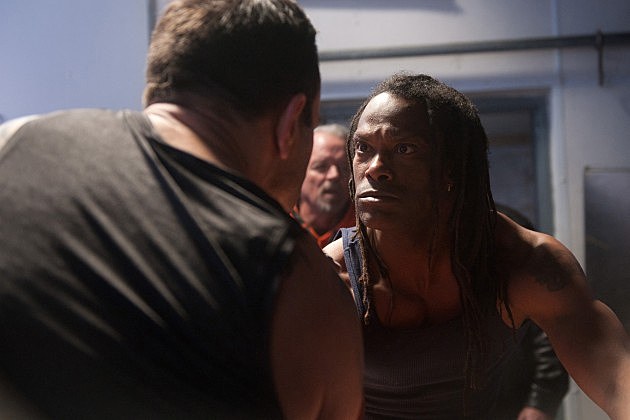 Source:
Exclusive 'Game of Arms' Episode 5 Sneak Peek: Mike Selearis and Nick Zinna Pit New York Against Kansas