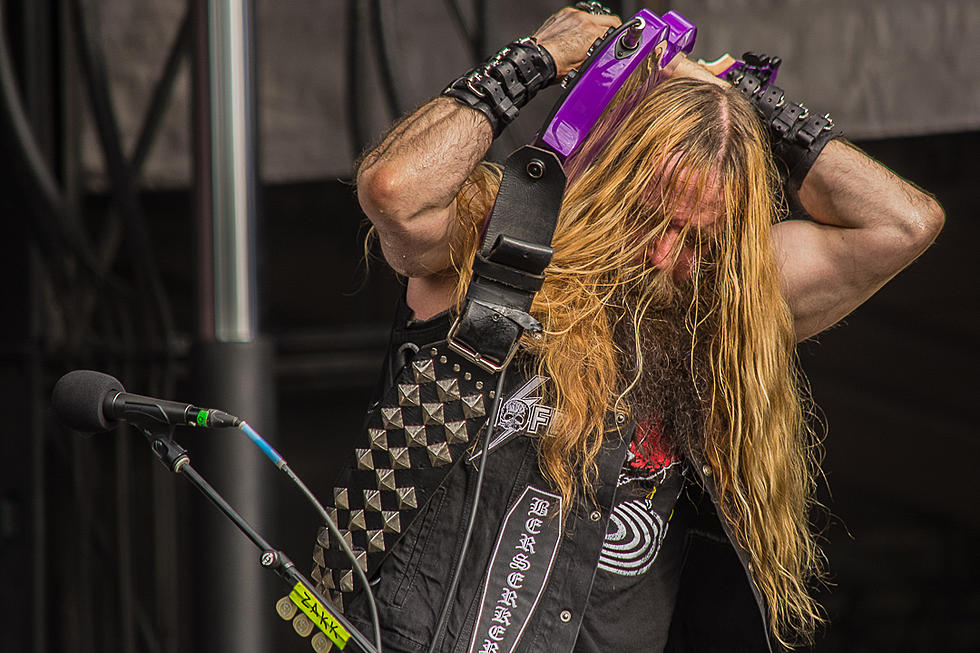 Zakk Wylde on Reuniting With Ozzy, Completing New Black Label Society Album + More
Photo by Nick Durcholz
Zakk Wylde was the latest guest on Full Metal Jackie's weekend radio program. The legendary six-stringer briefly discussed rejoining Ozzy Osbourne's band, already hamming it up like the old days with the Prince of Darkness. He expounded on how his Black Sabbath tribute band, Zakk Sabbath, came about and even revealed that Black Label Society have finished up their new album, which is expected to arrive in 2018. Check out the chat below.
Well, so it was obviously really big news when it was announced that you've rejoined Ozzy's band. Why do you think people love the two of you together so much?
You know he called and said, "Zakk, you look like you could use some work. You know I'm looking forward to the training sessions, the powerlifting training sessions that we've had in the past. So you know he said, "It looks like your uterus can come up," and so it will be uterus deadlift and a whole bunch of other things. I'm definitely looking forward to and then we're definitely going to play some music in between the heavy workout you know, the powerlifting sets that we will be doing. Those are always good times.
I assume that you were you were as happy as we were that you got the call.
Yeah I think you all were just — Mom, Mrs. O [Sharon Osbourne] just called the house and she was just like, "Zakky, you know, [are we going to wind up] doing this thing?" I was like, "Yeah of course." And so like I said I'm always there for them. I mean, I'm good buddies with Gus [G.] too. Gus is phenomenal and he's a brother and he's super cool. My relationship with Ozz and mom is just — if Gus' wife was pregnant and he had to be home and they wanted me to come out on the road for two weeks, I'd be like, "Just give me the setlist and I'll come out and cover Gus until he gets back out." So that's the way it's always been.
Zakk, you've spent a fair amount of your career playing with Ozzy. What do you miss most when you're not making music with him?
Well, I mean I think what anybody misses you know when you're with the band and you're with your brothers it's just all your sisters I mean whoever you know whoever is in the band it's just the camaraderie and just everybody hanging together would have a good time. I always said with Ozz it was a miracle anything ever got done because we were always cracking up all the time.
It always seemed like you guys are family.
Yeah, without a doubt. [Ozzy] is the godfather of our oldest boy, Jessie John Michael, who he's named after. I think it's just hanging out and having a good time and just cracking up and talking about just taking the piss out of everything and taking the piss out of yourself. So I'm looking forward to seeing the boss again and then jamming with the guys. So I said I'm buddies with all the guys. So it's just going to be "let the comedy begin once again."
Zakk, you recently finished up a Zakk Sabbath tour, and there is also a limited edition live Zakk Sabbath album. What makes playing a full set of Black Sabbath songs so much fun for you?
I mean it all started when we were doing this metal all stars thing. And so whenever we would get together it was just me and Blasko whenever we'd do these things. It was just a great excuse for us to get together and jam. But the whole thing is — what it would always come down to is, because we always have a different drummer each time, we ended up doing it. So it was like I said, we don't have to do a rehearsals.
So when we all get together we'll just run it over to soundcheck and then at night we'll do the show. So just, like, the common denominator. If you're a classical musician you know you know something from the big three, so you could say between Bach, Mozart and Beethoven, it's part of your education. Playing hard rock and everything like that — Sabbath — is part of your education.
Everybody knows Sabbath's songs. It would always come down to do how to play "N.I.B.," "War Pigs" and stuff like that — so "Snowblind" or anything like that. So that's how it came about and then Blasko and I would say, whenever we were getting together, "Well what songs do you want to do?" It's just like,"Let's do the Zakk Sabbath set." So that's how it came about. Then we we ended up going out with Billy Morrison and the guys when they were doing the Royal Machines. We ended up playing a New Year's Eve gig with them. So we actually did a full set instead of just doing five songs or something like that. And from there it's just going out — it's so different than us playing at high school parties when we were in high school except we're doing all Sabbath. It was a blast for sure.
Going to the show just looks like going to a party.
That's it, it's the high school Tupperware keg party.
Last year, Book of Shadows II revisited an acoustic based style of music that a lot of people, including myself, like hearing you do. What's fulfilling about that type of music compared to the heavier music you're known for?
I've always loved the mellow stuff as much as the heavy stuff. It's like the whole thing with [Led] Zeppelin. I love listening to "Going to California" just as much as I love listening to them doing "Black Dog." I've always listened to the mellow stuff, whether it's The Band, Van Morrison, Sam Cooke — stuff like that. Elton [John], The Eagles, down to The Allman Brothers or [Lynyrd] Skynyrd when they are doing the mellow stuff. So, it's always been there. Even all the years for Ozzy down to No Rest for the Wicked — we were doing long drives and we'd just be upfront solving the world's problems listening to mellow tunes. It's just my love for that music.
So far 2017 has been devoted to the Experience Hendrix Tour and Zakk Sabbath with some Ozzy dates this summer. Where does Black Label Society fit into this year's schedule?
In between the breaks and in between my nail appointments, the shaving of my legs, we've actually made another Black Label album. So that'll be coming out in the new year. We gotta pick our spots where we want to put records in there. So the whole thing is, we were in The Black Vatican, we made another album so that'll be coming out in the new year and then the Black Label Armada will start rolling in the new year.
Zakk, you've never been shy about making fun of yourself. Especially some of your Twitter video posts. How much time -
I look in the mirror every morning and it's a gift that just keeps on giving. [laughs]
How much time, seriously, goes into thinking up this funny content to post? Does it just come to you? Do you spend a lot of time on this?
Yes. Nah, we're just sitting around going, "let's just post this right now." So that's about how much time it takes — just like that.
Your sense of humor is something that we all love about you. [laughs]
That's what I tell the immortal beloved. I say to Barb every morning when she wakes up, I go, "You're the lucky winner! You get all this and more!" [laughs]
We look forward seeing you out with Ozzy and of course the Black Label Society stuff that is to come. Zakk, it is always a pleasure.
Great talking to you, Jackie.
Where Does Zakk Wylde Rank Among the Top 66 Hard Rock + Metal Guitarists of All Time?
10 Unforgettable Onstage Reunions
More From The Basin's Classic Rock