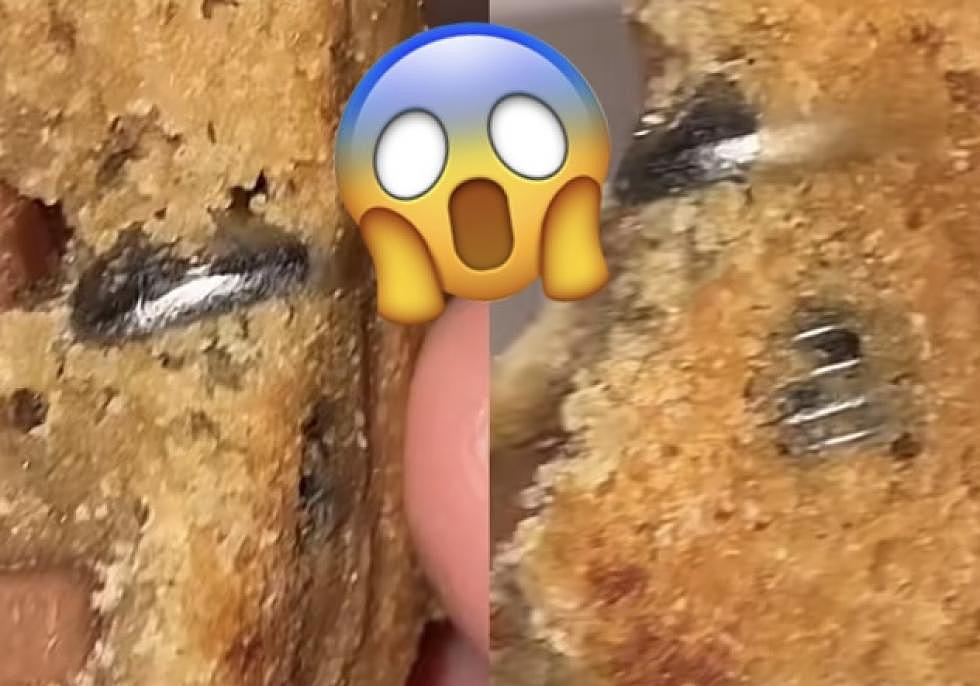 Woman Goes Viral After Finding Screw in Crumbl Cookie
@_ashley.marie via TikTok
Everyone's had one of those experiences where you're eating and discover something in your food that wasn't supposed to be there. Whether it's as innocent as a single French fry hiding in your tater tots, or something gross like a bug, it happens all the time.
Obviously, when it comes to foreign objects like hair, packaging, or other contaminants, you have a right to be upset about finding them in your meal. Especially if it's something that would be hazardous to consume like glass, metal, or something else. That is when it is extremely important to contact the company responsible and sort things out so no other consumers run into the same issue.
This is what happened to a TikToker named Ashley when she allegedly found a metal screw that had been baked into her Crumbl Cookie. Fortunately, it seems like she found the screw before accidentally biting into it, but it is still shocking to find something like that in your food.
Ashley posted about the incident on TikTok last month and now has over 15 million views and nearly two million likes on her post. After seeing the issues, Crumble contacted her in order to resolve the issue. According to a comment Ashley left on the original post, Crumbl contacted their manufacturers and are giving this issue the proper attention in order to ensure nothing like this happens again.
It is reassuring to know that a company as big as Crumbl is taking a situation like this seriously. Unfortunately, some companies fail to do so. It is shocking how many times you'll come across a viral video of someone sharing a bad experience with a restaurant or other business, and the company does nothing to resolve the issue. So, it's nice to see this issue is being handled properly and promptly.
Airbnb Castle in Texas
It's the only Airbnb Castle in Texas but this place in beyond luxurious.
10 Amazon Finds to Help Your Pet Beat the Texas Heat
15 of the Very Best Places to Get Cookies in Tyler, According to Residents
East Texas does food VERY well. And thankfully for me and my fellow "cookie monsters," that includes quite a few GREAT options to get some of the best in Tyler.
More From The Basin's Classic Rock