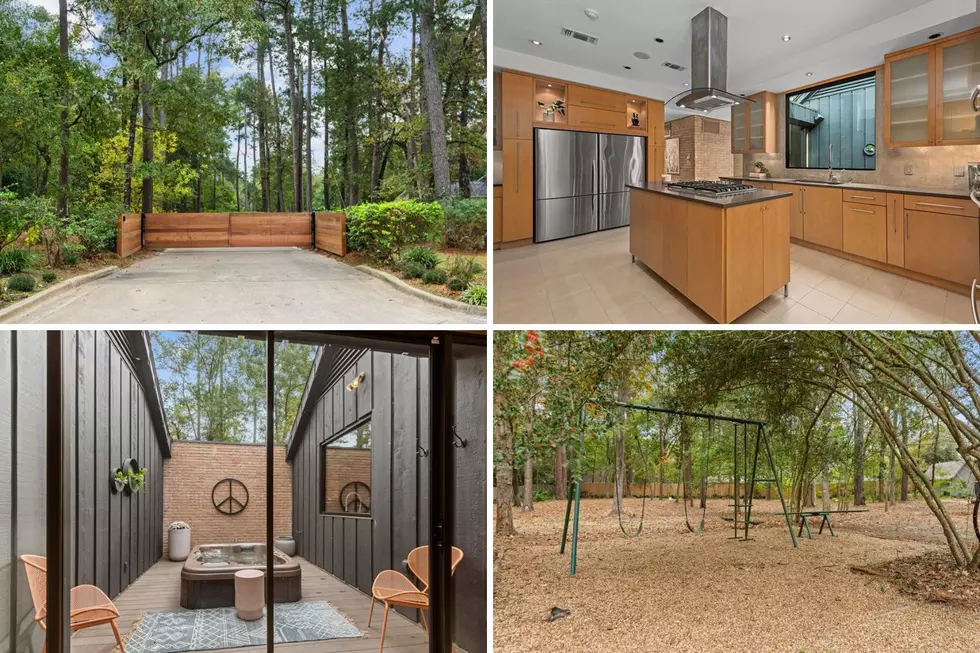 This $1 Million Lufkin Home is Nestled Within Its Own Woodlands
Falco Media/Jarrod Webb
Seclusion...peace...tranquility...grandeur.
If I were to tell you of a home for sale located around 60 seconds away from Loop 287 in Lufkin, these words would probably not come to mind. But, this $1.1 million home is beautifully situated within the tall pines of its natural surroundings, giving it the feel of a country estate located miles beyond the hustle and bustle of city life.
Located at 1707 Copeland, this mid-century modern home features a true relationship with the outdoors combined with an inviting and spacious floor plan. It sprawls out over 2.9 low-maintenance acres and includes a large guest house.
Many times, a home or property that is on the market features that one component, that one take-your-breath-away detail that closes the sale. This house features many of those.
The double oven and restaurant-sized fridge are signature features in the kitchen. The hot tub located within a privacy deck gives you the seclusion of four walls yet allows you to have an unobstructed view of a moonlit night. There's the wet bar, a statement fireplace, a screened-in patio, walking paths, and a greenhouse on the property.
This gorgeous home features an electric front gate, three car garage, the functionality of a floor plan with split bedrooms (1 has a murphy bed), den with built-in modern desks & the luxurious master suite, and let's not forget the automatic generator.
In total, there is over 6,000 square feet of living space including the guest house which has 2 full bathrooms, 1 large bedroom, and a full kitchen.
1707 Copeland, Lufkin
This home in the Brookhollow neighborhool in Lufkin was recently listed. Let's take a look inside this $1.1 million home.
Comfortable and Luxurious Home in Tyler, TX
This beautiful home in Tyler, Texas is currently for sale with a list price just under $2 million.
Beautiful Property With 200+ Acres in Jacksonville, TX
If you enjoy hunting and fishing this might be the perfect property for you.
More From The Basin's Classic Rock