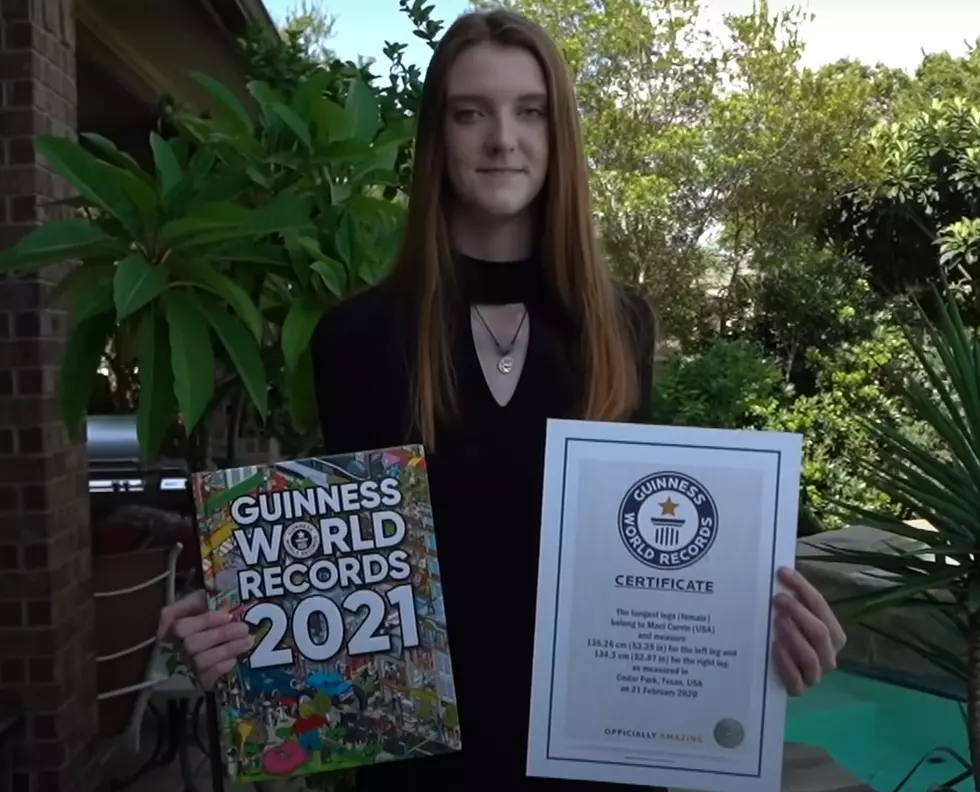 Texas Teen Sets 2 Amazing Guinness World Records But Her Story is About Empowering
YouTube/Guinness World Records
Maci Currin from Cedar Park, Texas is a teenager who holds two Guinness World Records, but it's what she's doing with that notoriety that is really special.
Currin is helping to empower tall women who may feel awkward about their height.
Guinness World Record
It was a little more than a year ago that we learned that Currin had set a couple of Guinness World Records - one for having the "longest female legs" in the world and another for being the "teenager with the longest legs" in the world.
---
---
Maci stands six feet, ten inches tall and has seen her share of being bullied and now she is speaking out in hopes to empower tall women, especially young women, everywhere.
Empowering Tall Women
According to Chip Chick, Currin didn't have to notify Guinness World Records about her height, she could have easily decided to just go about life in her way without the world records but she chose to pursue the recognition as a way to show girls "that embracing your height is powerful."
TikTok
Maci Currin is really just like any other teenager her age, except taller. Because of her height she understands the negative attention she gets for her size and wants to help other women embrace their height by letting them know it's okay to be tall.
Currin has a TikTok account, @_Maci.C, with close to two million followers and more than 39 million likes. Just like other teens her age, she posts all the fun and trendy video stuff but she also uses her social media to let other girls with height insecurities know that it's okay to be tall.
---
---
Maci's messages of positivity has been liked by hundred of thousands of people. She not only is a Guinness World Record holder but a great role model for every tall girl everywhere that may be feeling a bit insecure about their height.
As one girl commented on her post, "YOU GO, GIRL!"
This Awesome Treetop Dome Airbnb in Marble Falls Is Perfect for Nature Lovers
If you always dreamed of having a summer sleepover in an awesome tree fort, here's your chance. This beautiful
Airbnb in Marble Falls
lets you live your childhood dream with all the comfy adult amenities.
Chill Out This Summer at the 6 Best Swimming Holes in Texas
Feeling hot, hot, hot? Here are six of the best swimming holes in
Texas
to get your chill on and lower that core temperature.
Trips to Discover
and
The Crazy Tourist
both list the following six places as the best places to cool off this summer in the great state of Texas. You'll want to keep this list handy as the mercury rises and the sweat starts to pour!
More From The Basin's Classic Rock