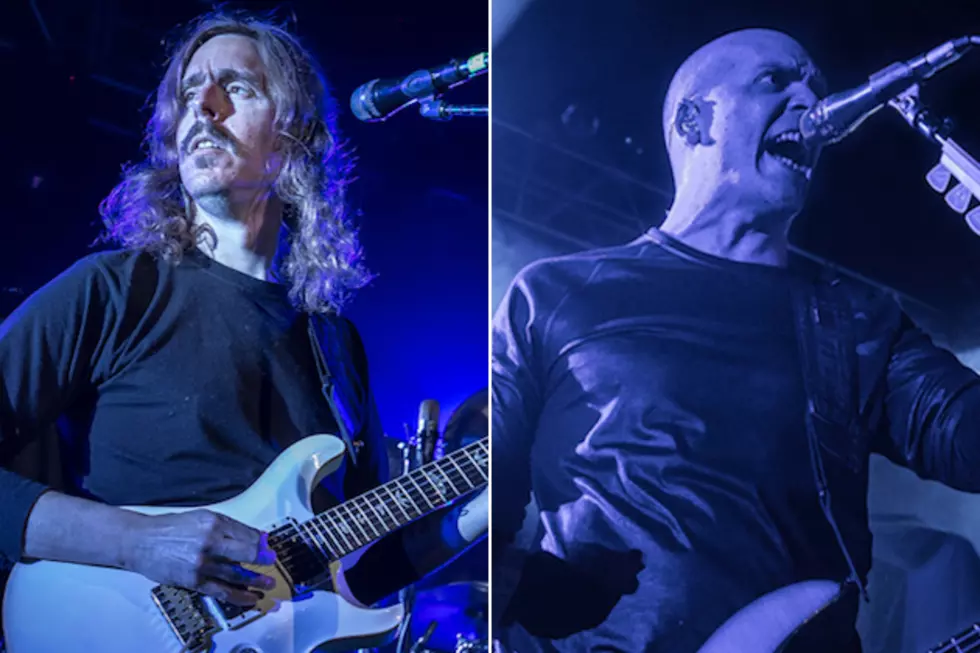 Opeth's Mikael Akerfeldt Wants to Start a Project With Devin Townsend
Johnny Perilla
Who wouldn't want to hear this? Two of metal's modern masters, Mikael Akerfeldt and Devin Townsend, have been talking about forming a new project together.
Obviously, Akerfeldt has his hands full with Opeth and Devy has been kicking ass with the Devin Townsend Project, so this new band may or may not happen. Both musicians are extremely prolific, with Townsend contributing to and producing music for a lot of bands. Akerfeldt is no stranger to supergroups, having helped form Bloodbath and teaming up with Porcupine Tree's Steven Wilson to create Storm Corrosion.
Akerfeldt spoke about the possibility of starting a band with Townsend during an interview with Rock Hard Magazine. "Well, actually, if I say anything about it, people are gonna be expecting something to be released. Some of these… I don't know how many projects I've been in, and all of them have been talked about when you're drunk," Akerfeldt says. "I had a band with Jeff Loomis, from now Arch Enemy. [We were] like, 'We're gonna have a band. And a band with Brent from Mastodon. And I was gonna have a band with Yngwie Malmsteen, even if I never met him."
"But this one, and since [Devin] already mentioned it, yeah, I talked to him about doing something," Akerfeldt admits. "Not [just] me and him… If it happens, which it may well not do, it will be like a band of musicians. I came up with the idea, talked to one guy from Sweden that I love his voice. I talked to him, and he's like, 'If you're doing it, if you're in, I'm in.' And then I met a keyboard player, asked him and he said, 'Yeah, I'm in.' I talked to a drummer, 'I'm in.' I talked to Devin, 'I'm in.'"
As for the band's concept, Akerfeldt reveals, "The idea for this—again, if this happens—is to have a band consisting of lead singers. So the vocals first and instruments second, because that's been gone missing in music, I think, now. So people that are comfortable singing lead vocals. And then if they are a bass player or a drummer, that's great. But the singer is the most important thing, that they have a lead-vocal-type voice, if you know what I mean."
Sounds pretty awesome to us. Make it happen, boys! Opeth and The Devin Townsend Project recently toured together with Gojira. For our coverage and exclusive photos from the New Jersey show, click here.
See Opeth + Devin Townsend in The Best Metal Album of Each Year Since 1970
Mikael Akerfeldt Plays 'Wikipedia: Fact or Fiction?'
More From The Basin's Classic Rock