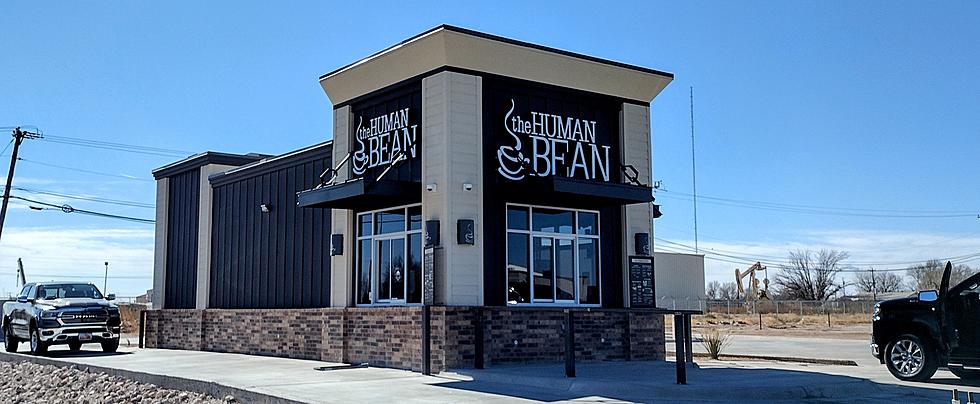 Love Your Coffee? The Human Bean New 3rd Location NOW Open in Odessa!
Aye Aye Images
Alright, Coffee lovers! Time to hit it up! There is a new place to grab your coffee and more. The Human Bean just opened its 3rd location here in the Permian Basin. It's in Odessa!
LOCATION OF THE HUMAN BEAN NEW STORE IN ODESSA
2425 N FM 1936, Odessa, TX 79763. The Human Bean is located right off the intersection of University and FM 1936 in Odessa!
THE OTHER 2 LOCATIONS ARE
 Midland at 2007 N Big Spring St
 Odessa at 4984 E University Blvd
TYPE OF COFFEES ON THE MENU?
Brewed Coffee
Latte or Cappuccinos
Americano
Mocha or Breve
Cold Brew
FROZEN FAVORITES THAT ARE ON THE MENU
Real Fruit Smoothies
Granita
Frozen Hot Chocolate
Chai or Mate Smoothie
Vanilla Smoothie
Java Chip
Green Tea Smoothie
Rockstar Iced or Smoothie
Red Bull Iced or Smoothie
HOUSE SPECIALTIES THAT ARE ON THE MENU
Snowy Mocha
Mexi Mocha
Vanilla Mocha
Chocolate Macadamia Nut Breve
Irish Cream Breve
THEY HAVE DRINKS FOR THE KIDDOS
Hot Chocolate
Italian Soda
Real Fruit Smoothie
BAKED GOODS ON THE MENU
Cookies
Muffins
Biscotti
Granola Bars
Bobo's Bars
Umpqua Oats
Bagels and More!
They also sell coffee by the pound! They have a beautiful store where you can drive-thru or walk-up. And, this location is conveniently located to get in and out if you are on the go!
The other 2 locations are located at 4984 E University Blvd in Odessa and in Midland at 2007 N Big Spring St, in Midland.
Make sure to stop by and grab some great coffee, espressos, coffee, tea, or smoothies!
And make sure to WELCOME their 3rd location to the Permian Basin!
Who's up for some awesome coffee?
HOURS OF OPERATION
Monday: 5:00am - 9:00pm
Tuesday:  5:00am - 9:00pm
Wednesday:  5:00am - 9:00pm
Thursday:  5:00am - 9:00pm
Friday:  5:00am - 9:00pm
Saturday:  5:00am - 9:00pm
Sunday:  5:00am - 9:00pm
What Are the Signature Drinks From Every State?
More From The Basin's Classic Rock