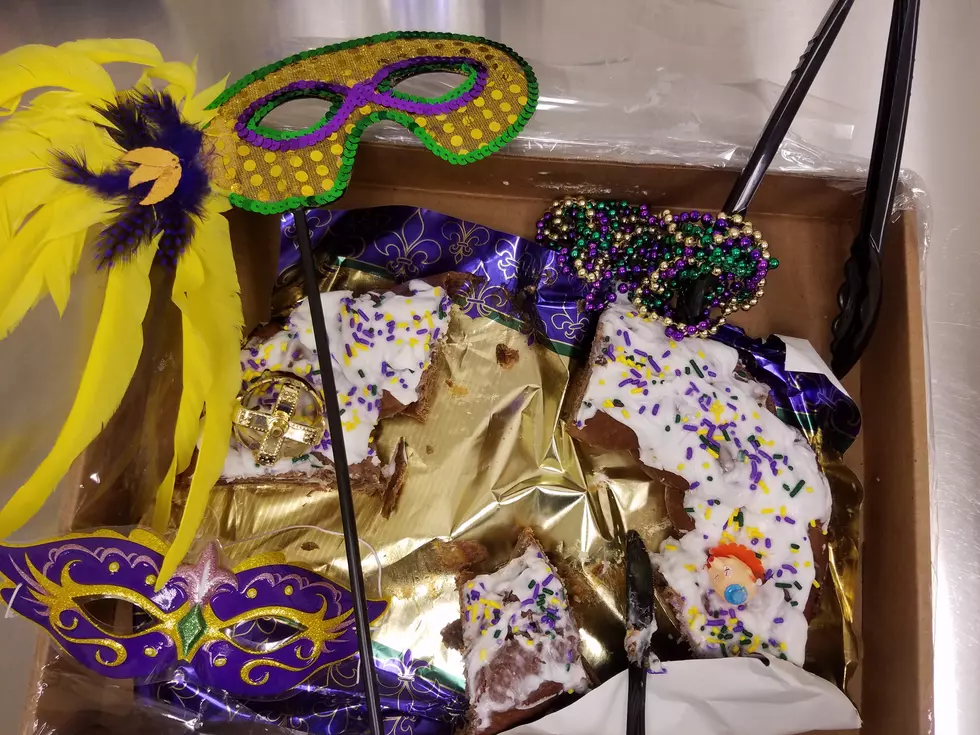 King Cake baby!
A box arrived today at my big girl job.  I didn't know you could send a cake in the mail but apparently it's done rather often.  I recognized the box because we get it every year.  There's a company that graciously sends us a King Cake every year about a week before Fat Tuesday.  What's a King Cake? Well, for those of you who don't know, the Mardi Gras season officially begins on January 6th or the "Twelfth Night", also known to Christians as the "Epiphany".  Epiphany comes from a Greek word that means "to show".  Jesus first showed himself to the three wisemen and the world on this day.  As a symbol of this Holy Day, a tiny plastic baby is placed inside each King Cake.  At a party, the King Cake is sliced and served.  Each person looks to see if their piece contains the "baby".  If so, then that person is named "King" for a day and is bound by custom to host the next party and provide the King Cake.  https://www.randazzokingcake.com/pages/History-of-King-Cakes.html
So, we cut the cake every year but I always thought if you got the baby it was good luck. Being forced to have a party isn't good luck people.  Anyway, did you know that Mardi Gras has a moveable date?  It can occur on any Tuesday from February 3rd to March 9th.   It's always the day before Ash Wednesday and is always 46 days before Easter.
Which brings us to Fat Tuesday which is next week.  Did you guys know that Mardi Gras is French for Fat Tuesday? Fat Tuesday is the last day of the season called "Carnival".  I'm not sure how long the "Carnival" season lasts but as you know it's basically filled with drunkenness, merry making, debauchery, drunkenness…..  You could think of it as sort of a last big binge on all things bad before you give something you really like up for 40 days since the last day of "Carnival" is immediately followed by the first day of lent.  I'm not Catholic but I usually try to give something up for the 40 days every year (un successfully).  One year I tried to give up sarcasm…. Didn't work out. What will you give up?
More From The Basin's Classic Rock