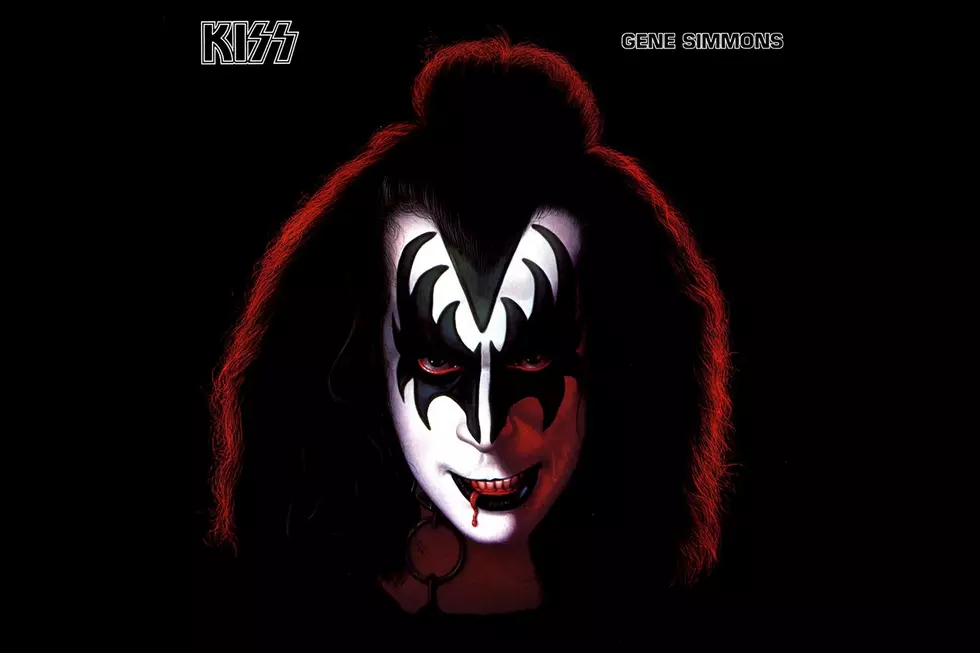 Why Gene Simmons Was Free to Make Kiss' Weirdest Solo Album
Casablanca
Unlike Peter Criss and Ace Frehley, Gene Simmons was completely happy with his role in Kiss circa 1978.
So when the band decided to record separate solo albums in order to placate the disgruntled drummer and guitarist in hopes of keeping them in the band, Simmons decided to take a musical holiday.
"I told Gene, 'There's two ways you go [can] go with your solo album,'" producer Sean Delaney recalled in Kiss: Behind the Mask. "One, you can make it like 'God of Thunder,' a whole album like that, the evil demon. Or you can do anything that you want.' He really wanted to have this other side of him seen to the world."
Simmons Left His Demonic Persona Behind for His Solo Album
"I wanted my solo album to be the greatest show on earth, with choirs and tons of special guest stars," Simmons concurred in his 2001 memoir Kiss and Make-Up. "Anytime I wanted another star to appear on the record, I flew them in and treated them like royalty."
Although some of his more grandiose plans, such as arranging for the first recorded post-Beatles reunion of John Lennon and Paul McCartney, fell by the wayside, Simmons was still able to recruit a wide range of stars, including Bob Seger, Aerosmith's Joe Perry and Cheap Trick's Rick Nielsen.
"If you read the credits of who plays on it, it's like a who's-who of Hollywood and rock 'n' roll," explained Perry. "I think there were four other guitar players besides me just scheduled for that day. When I listened to the track I had trouble discerning whether I even played on it but it was fun. I was flattered that Gene called me up to do it."
Read More: The 10 Weirdest Kiss Songs
The album found Simmons switching from bass to guitar and pushing himself beyond Kiss' established hard rock sound, aided by an electric collection of collaborators. Helen Reddy of "I Am Woman" fame sang on the song "True Confessions," Donna Summer on "Burning Up With Fever" and a 30-piece string section was recruited for "Man of 1,000 Faces."
This all added up to an unexpectedly odd and diverse album, but also one that has held up rather well over the years. Simmons may have judged his work too harshly in Behind the Mask: "By that point, I was totally seduced by power, fame and wealth, and women especially. In a lot of ways my solo record was probably a reflection of a disjointed guy who was just doing everything."
Listen to Gene Simmons' 'When You Wish Upon a Star'
But the album's most unexpected song, an earnest reading of the Pinocchio classic "When You Wish Upon a Star," showed that Simmons – who was born "dirt poor" in Israel and immigrated to America at age eight – was still well aware of his humble roots. "When I first heard that song I could barely speak English," he told Grooves in 1978. "But I knew the words were true. Anybody can have what they want, the world and life can give its rewards to anyone."
Delaney recalled how the song's message got to Simmons during the recording sessions: "If you listen to Gene's version, you'll hear his voice crack, because at that point he was crying," he said in Kiss: Behind the Mask. "I wouldn't let him re-record the vocal."
The four Kiss solo albums were released on Sept. 18, 1978. Simmons' was the highest-charting of the four, reaching No. 22 on the Billboard charts. The album also spawned a minor hit single, "Radioactive,' which peaked at No. 47.
How the Solo Albums Changed Gene Simmons' Role in Kiss
When Kiss reunited to record their next studio album, Simmons found himself seated at a more crowded songwriting table. The critical and commercial success of Frehley's solo album had put him on equal footing with Simmons and Paul Stanley, with each taking the lead role for three songs on 1979's Dynasty.
It would be 26 years before Simmons released a second solo album. Like its predecessor, 2004's self-mockingly titled Asshole featured a healthy does of guest stars, and covered an even broader range of musical styles. In 2017 he released a massive 11-disc collection of previously unreleased material titled Gene Simmons Vault.
Listen to Gene Simmons' 'Radioactive'
Kiss Solo Albums Ranked Worst to Best
Counting down solo albums released by various members of Kiss.
More From The Basin's Classic Rock