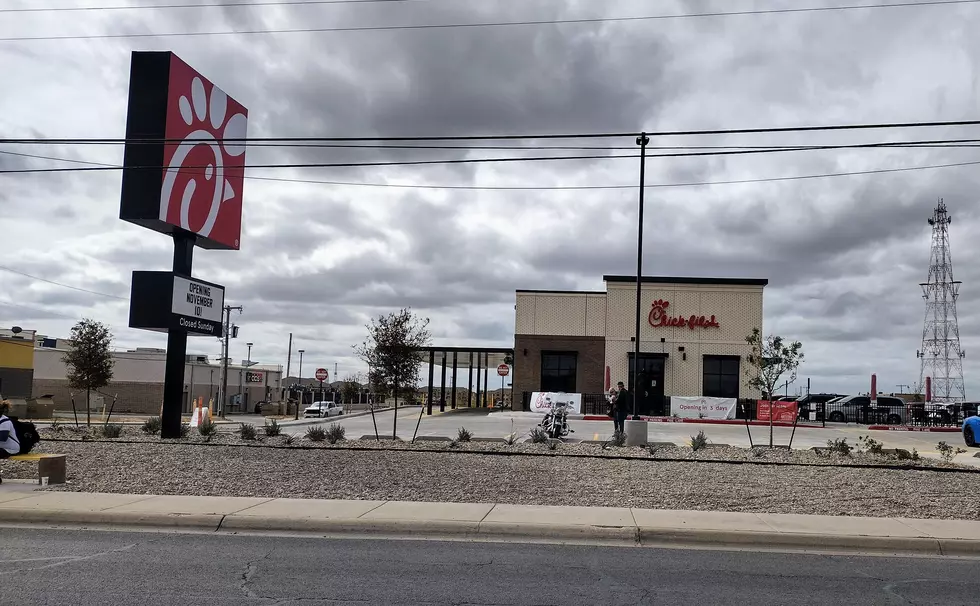 Chick-Fil-A Set To Open It's 8th Store Here in Midland Odessa This Thursday!
lc
Bring it! Say Chic-fil-A in Texas and we say Bring it! And, yes there is another one on the way here in the Permian Basin. Get ready for the newest addition to the Chik-Fil-A family here in  West Texas.
• CHIC-FIl-A RANKIN HIGHWAY TO OPEN NOVEMBER 10th IN MIDLAND, TEXAS!
Location: 

2014 Rankin Hwy

, 

Midland

, TX

79701
Let's be real, we can always use another Chick-Fil-A here in the Permian Basin! The Grand Opening of the newest Chick-Fil-A happens Thursday, November 19th.
This location is 2014 Rankin Hwy, Midland, TX 79701 at Rankin Highway Wolcott Ave.
• FEATURES EXTRA LONG DRIVE-THRU!
You know when it comes to Chick-Fil-A drive-thrus, you need extra long ones. Well, this Chick-fil-A does not disappoint. Check out how long this Chick-fil-a drive-thru is!
• CHICK-FIL-A TO HONOR TO 100 LOCAL HEROES 
In conjunction with the grand opening..according to the MRT, Chick-Fil-A will ...
Chick-fil-A Rankin Hwy & Wolcott will be surprising 100 local heroes making an impact in Midland with free Chick-fil-A for a year..
According to the MRT...the restaurant will also donate $25,000 to Feeding America with the funds being distributed to partners within the Midland area to aid in the fight against hunger.
Local franchisee Dianne Jones...as reported by MRT...
My life mission is to add value to others and provide opportunities for others at a large," said Jones said in a press release. "I spent the majority of my Air Force career in the recruiting profession with varying levels of leadership, culminating in my retirement from the Air Force Recruiting Service Headquarters. I hope to bring the leadership skills I learned during this time to my Team Members at Chick-fil-A Rankin Hwy & Wolcott.
• BEFORE AND AFTER PIC OF AREA!
• STOP BY AND WELCOME THE NEWEST CHIC-FIL-A TEAM! 
Make sure to stop by and welcome the TEAM and Store to Midland!
How Midland Has Changed Last 15 Years - Before & After Pics!
More From The Basin's Classic Rock