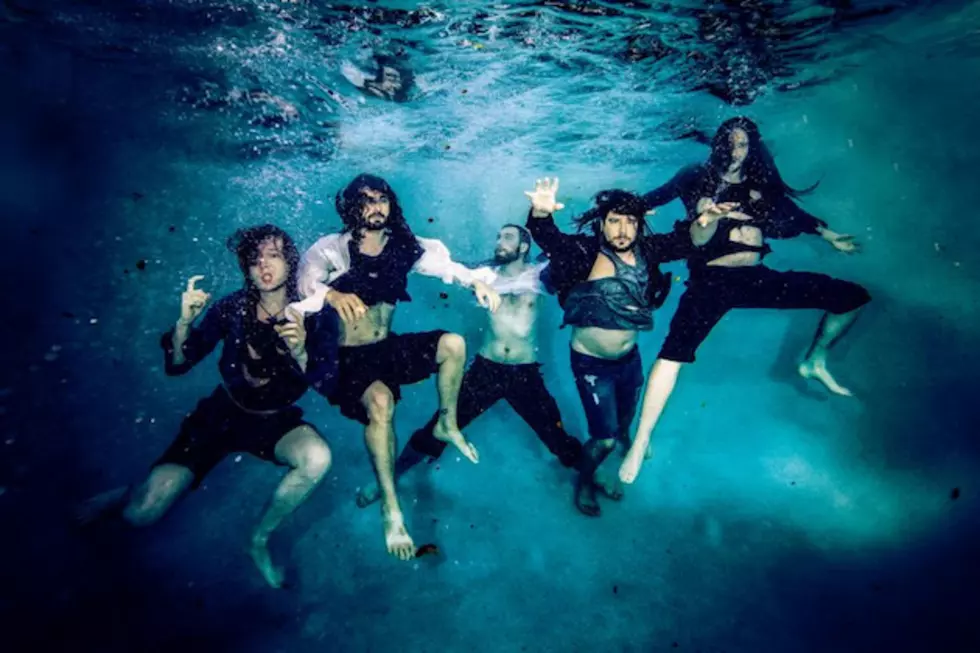 Pirate Metallers Alestorm Detail New Album 'No Grave But the Sea'
Napalm Records
Ahoy, landlubbers! True Scottish pirate metallers Alestorm have just announced No Grave But the Sea, their fifth full length effort. Set to arrive at port on May 26 through Napalm Records, fans can can start hoisting the black sails and take a look at the freshly unveiled vivacious album art and track listing below.
No Grave But the Sea will serve as the first new offering from the band since 2014's well-received Sunset on the Golden Age, dishing out 10 new songs all about pirating, drinking, adventure, treasure and, as one track indicates, getting "F--ked With an Anchor."
"Oh wow! It's a new Alestorm album! I hope all of you fellow humans and dogs like it; we think it's pretty gosh darn okay," exclaimed the band in a collective statement. "It's also our first album to feature our grandiose guitarist Máté Bodor who brings his tasty and delicious solos and rifftacular riffing into the mix. This is the place in the press release where we would usually tell you this album is darker and heavier than our previous works, but that's probably not true. It is, however, full of epic songs about pirates, drinking, and pseudoscientific cryptogeography. I'm sure y'all will enjoy those things just as much as we do."
No Grave But the Sea can be pre-ordered at the Napalm Records webstore with plenty of bundle options to choose from in addition to the standard format options. One bundle even includes a rubber duck!
Alestorm, No Grave But the Sea Album Cover
Alestorm, No Grave But the Sea Track Listing
01. "No Grave But the Sea"
02. "Mexico"
03. "To the End of the World"
04. "Alestorm"
05. "Bar und Imbiss"
06. "F--ked With an Anchor"
07. "Pegleg Potion"
08. "Man the Pumps"
09. "Rage of the Pentahook"
10. "Treasure Island"
Most Anticipated Hard Rock + Metal Albums of 2017
10 Vocalists Who Sound Like Classic Movie Monsters
More From The Basin's Classic Rock