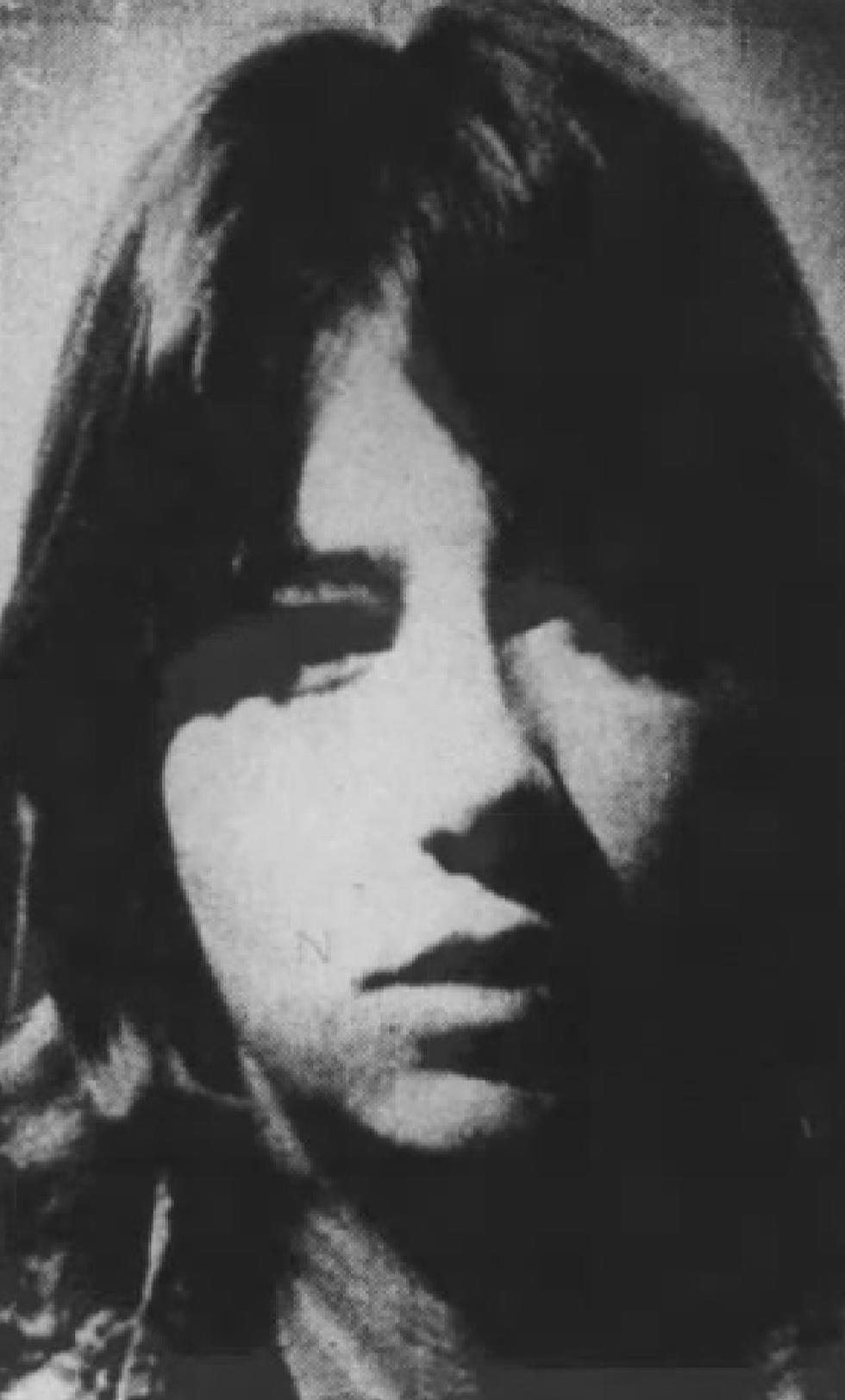 365 Days of Texas True Crime:End of Story
Screenshot of Lois Ann Lloyd's picture in the paper
A burning car is found near Interstate 20 in Midland County on Saturday, April 13th, 1985 in the early morning hours, about 5 a.m. Inside the trunk of the burning Pontiac, found parked two miles west of Loop 250 near I-20, was blood and skull fragments discovered by deputies who responded to the call by a passerby who reported the burning vehicle.
An oil field worker discovers blood, hair, and what looks like bone fragments at a Shell well site about a quarter mile east of FM 866 sometime before noon.  Two pools of blood containing skull fragments and an object that may have been used as a weapon were found by deputies at the site.  The scene leaves one to make the obvious assumption that some sort of violence had occurred.
The vehicle was a 1976, light blue, four-door Pontiac LeMans.  There was evidence of a flammable liquid that had been used to set the vehicle on fire, according to Midland county Sheriff Gary Painter.
The car belongs to a woman named Lois Ann Lloyd.  She is missing, last seen Friday, April12th, about 10 p.m. leaving her home in the company of a stocky man or woman, about 5 feet 7 inches tall wearing a baseball cap and men's clothing.
Lois moved to Odessa about seven years ago from Raton, New Mexico.  She came from a good family.  Although shy, she did well in school and excelled in sports, setting a state softball throw record in high school.  She had a good job, working for C.E. Vetco Services Inc, a pipe inspection company over on I-20.  However, like many in the area, she was struggling with an addiction, not to drug, to alcohol.  When she moved to Odessa seven years previous, her best friend, Debbie Lawson, says her drinking had become bad.  Although a person who had unknown potential, according to Debbie, she was an alcoholic.  Not long after she moves to Odessa she gets arrested and charged with a DWI in December of 1977, she's only 20 years old.  The appearance in the Odessa American police blotter is an ominous foreshadowing of the trouble to come.
It seems as if she doesn't get into any more trouble, at least legally, after that, spending her time when she's not at work with her friend Debbie, decoupaging, making candles, going on trips to Disney Land and drinking….alot. Lois was ready to turn things around however.  She called home just days before she went missing and told her dad she wanted to leave Odessa.  Her father, Stan Lloyd, came and spent two days with his daughter, helping her get her life in order.  He tells her to come home and stay on the family's New Mexico ranch while she figures things out but she declines.
Found at the scene near the Shell pumping unit was a bracelet identified as Lloyd's.  Ector County deputies send the skull fragments to a Midland DPS forensic lab to determine if what they found at the Shell site matched what was found in the trunk of the burned car.  A search by helicopter and vehicle is made on that Sunday to find the body of 27 year old Lois Ann Lloyd, 2519 Judy St, who deputies believe to be the victim of homicide. A heat-sensitive detector is brought in to search a 100-square mile area by ground.  Although the blood and skull fragments found at the Shell site are matched to what is found in the trunk of the Pontiac and found to belong to the missing woman, her family still holds out hope that she can be found alive.  Law enforcement, however, are clearly searching for a body.  After days of searching by helicopter, vehicle, by foot, and with the heat-detecting sensor, the Ector County Sheriff's investigators reluctantly discontinue the search.  Ector County Sheriff's Capt. Gene Kloss is quoted in the paper as saying "We presume the body is buried because we can't find it," but "We've run out of places to check."
Hunters and oil field workers seem to always be the ones who find what law enforcement never can.  Around 10:30 a.m. on Tuesday, April 23rd, 10 days after Lois goes missing, an oil field worker in Andrews happens upon the partially clothed decomposed body of what appeared to be a woman in a pasture about five miles north of Andrews.  Back when Lois went missing law enforcement relied on fingerprints to make initial identification of bodies, however the body was too decomposed and dental records had to be sent in for positive identification.  The body found in Andrews County was that of Lois Ann Lloyd.
Even without knowing the conclusions investigators were making, just based on the known information it can be surmised that Lois was killed at the Shell site, her body was loaded into her trunk and driven over 50 miles to a location in Andrews county where she was dumped, and then her vehicle was driven another 50 or so miles to the location it was found on fire.
Over 400 people are interviewed during the investigation.  Lois's car had a bumper sticker that read "Turn off the nukes, turn on the sun" and during the course of the investigation her vehicle is reported as being seen in Midland the night of April 12th. It is the next day at 5 a.m. that Midland County Sheriff's deputies are called to a vehicle fire on I-20 where officers find the burning vehicle with blood, hair and skull fragments in the trunk that turn out to belong to Lois.
So here I am, reading this information, thinking through the timeline…..Lois is seen leaving her home in Odessa at 10 p.m., at some point in the evening her vehicle is spotted in Midland, then at 5 a.m. a call of a burning vehicle comes in.  Let's say Lois was leaving her home in the company of a person wearing a ballcap at 10 p.m. heading toward Midland.  If they left and went straight to Midland it wouldn't have taken them long to get there. So sometime after 10:30 p.m. her vehicle was spotted in Midland and is later discovered, already on fire for who knows how long with the blood and skull fragments in the trunk.  In the 5 hours between the time when she left her home in Odessa with the unknown individual and the time her vehicle was found on fire near I-20 in Midland, someone drove to the Shell location where she was killed, drove with her body in the trunk, to the Andrews location where she was dumped, and then drove to spot near I-20 where her car was set on fire.  So many questions, like what was she doing out at an oil field location on FM 866 that she couldn't be doing anywhere else?
Witnesses report seeing two individuals talking with Lois in the yard of her home on Judy Ave the night she was killed. A man in his late 20's, about 5' 9", 170 lbs, dark collar length hair and and full beard and mustache and a woman in her early to mid 20's with dark or black shoulder length hair, 125 lbs, about 5' 7".
...and that's the end of the story...her name only appears in the paper one more time in 1993, eight years after her horrific murder. There is never anything in regards to an arrest or a conclusion or even a funeral. That's not to say she didn't have one, she did, she was buried in New Mexico where she was from. Her mom and dad have both passed away never knowing who took thier daughter from them. I think she light have a sister but I haven't been able to track her down yet.
If you or someone you know needs help with an alcohol or drug addiction don't wait to reach out contact Midland based Free rehab center and hotline number.
More From The Basin's Classic Rock