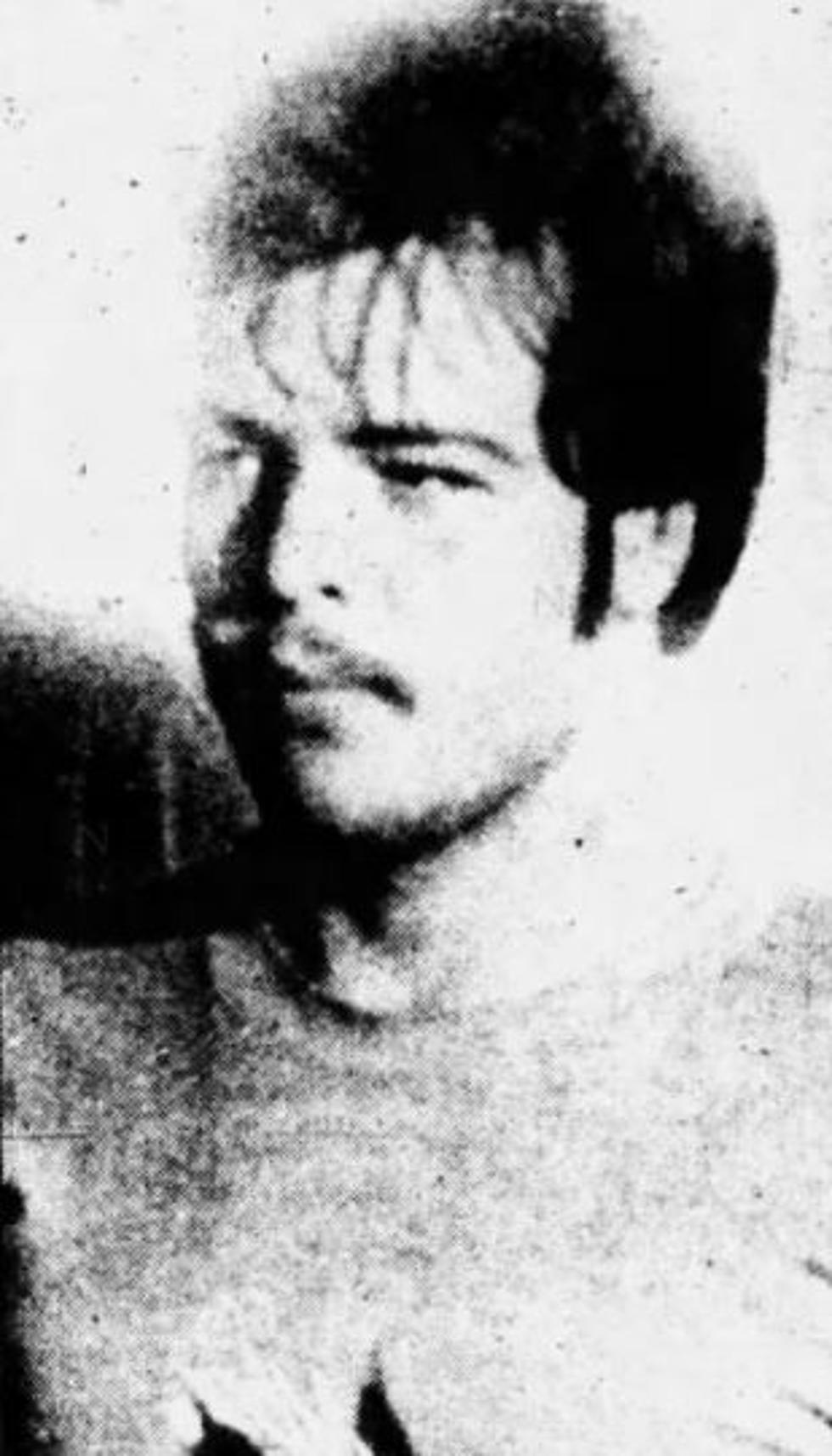 365 Days of Texas True Crime: Nettie Part 2
Screenshot of Foote
18 months after Velma Nesset was murdered and left under a drainage culvert as she walked to work a 22 year-old man was arrested and charged with her murder. Johnny Ray Foote had worked with Nesset at the mall for just a month and he happened to live in the same apartment complex as she did. When police brought him in for questioning they were able to obtain a confession, but was that confession coerced? 244th Judicial District Judge Joe Connally didn't seem to think so based on the evidence that was presented to him at the time. Defense attorney John Hoestenbach tried to have the statements that Foote had made to investigators during questioning suppressed.  He argued that his client had a low IQ and very little education and he was vulnerable to the pressure the police were putting him under during their interrogation. Hoestenbach argued that the confession was simply to end what he called, police harassment.
A grand jury returned a murder indictment for Foote on December 1st, 1983 but the statements he gave to police in regards to the murder were given to the police on October 18th, 1983.
Foote wasn't the only one of the many people Nesset worked with at the mall at the time that were questioned by police.  He also wasn't the only suspect.  27 year-old Mark Hensley was also questioned and thought to be a viable suspect in Nesset's murder. During testimony at pre-trial, Hensley said that Odessa police detective Rodney Casey interrogated him in May of 1983 while he was taking a polygraph test in Peryton.  Originally Casey was assigned to investigate the case but was taken off a few days after Nesset's body was found.  Mark Hensley testified that Detective Casey told him "we know you did it, why don't you go to the DA and work something out".  Hensley also lived in the same apartment complex as Nesset and Foote.  Hensley testified that he and Nesset walked to work together and that Nesset was like an Aunt to him.  He said he thought the fact that he was known to carry knives with him led the police to suspect him.  A witness said that Nettie has complained about some obscene phone calls she had received and mysterious knocks on her door.  Hensley also said that he knew Foote had been taken to the police department now and again.
According to the statement Foote made to police after a murder indictment had already been returned against him, he met Nesset while walking to work, forced her under a bridge and killed her.  "I killed her by stabbing her with my knife in the throat area.  I think I also cut her above the pubic area," Foote said in his statement.  Also in the statement when asked why he did what he did Foote said "I don't know, I must have been crazy".
During this time, Assistant District Attorney Ken Cowling was placed in charge of the case after Assistant District Attorney J.E. Weatherby became ill. Cowling seemed to think that although Foote may have been "a little more pliable and a little bit easier to break through to.", it was unlikely he confessed to a crime he hadn't committed.....
Ok, so just as a break away from the telling of the story we all know by now that isn't true.  The police tactic of aggressive, relentless and prolonged questioning by various individuals within a department was used quite often in the 80's 90's and unfortunately is still utilized today in order to obtain confessions.  This tactic does often prove successful in many cases where the individual being questioned is without a doubt responsible for the crime. However, there are far too many instances where under the immense pressure of questioning over a long period of time an innocent person will buckle under the mental stress of the situation and falsely confess thinking it will end their ordeal.  Back to the story...
According to Foote's attorney the confession was all they had against his client.  They had no more evidence against Foote at the time than they did prior to the confession. In fact, Hoestenbach said that had the confession not been allowed into evidence that would have been "pretty well the end of the ballgame" for the prosecution.
Johnny Ray Foote was arrested on October 18th, 1983.  The statement that he gave to police about raping and killing 65 year-old Velma Nesset was introduced by prosecutors in November. In December a grand jury returned an indictment for murder against him and at the defense's request for a speedy trial, proceedings were set for February 13th.  Requesting a speedy trial is a motion that is filed by most all defense attorney's. It's something that is done almost by default in an effort to limit the amount of time a client has to spend in jail.  If you believe that your client is innocent then getting the trial over with so that they can be released from custody and go back to their lives is the main motivation for doing this.  However, filing for a speedy trial can, on occasion, result in a dismissal if the court is somehow unable to adhere to the time frame allotted.  Under the Texas Code of Criminal Procedures, the sate had 90 days from the date of detention to begin felony trials.  The original Assistant District Attorney, J.E. Weatherly had become ill and his assistant (Ken Cowley) had to be placed in charge of the case.  Then Cowley's daughter had an emergency appendectomy the Saturday before the trial was scheduled.  As a result the prosecution filed for a trial continuance that was granted and Johnny Ray Foote was released on a $1,000 personal recognizance bond. He walked out of the Ector County Jail on Monday, February 13th, 1983, the day his trial was set to begin.
Prosecutors on the case just weren't able to get ready in time and the defense was glad to have their client released.  Both sides, however, were no less eager to go to trial.  The defense looked forward to the chance to prove that Johnny Foote was innocent and prosecutors vowed to be ready as soon as the trial was reset.  A motion to suppress evidence, including the statement made by Foote to Odessa Police detectives, was still being considered.
As Foote rode an elevator in the jail courthouse toward freedom he told the jailer escorting him "I'll see you later, our on the street probably." He made statements to the press waiting for him outside about being glad that he was out. "I've been in that cell for a long time." .....
Johnny Foote's attorney's quickly set out to have the charges against their client dismissed. John Hoestenback and Cynthia Clack claimed the evidence, or complete lack of, exonerated Foote in the murder of Velma Nesset.  They had three witnesses willing to testify that they were with Foote at the time of Nesset's murder.  In addition, the results of the psychiatric testing done January 23rd, 1984, on Foote by Odessa psychologist James Olson, found that  Foote had below average intelligence, learning impairments and possible brain damage.  In Olson's report he says that Foote was questioned 19 times, three to four hours each time and only on the 20th interrogation did he "confess on impulse" in order to put an end to the ordeal.  He goes on to say that Foote was unable to weigh the long term consequences and cost of his confession, deeming them to be less than the immediate gain of ending the questioning.  He blames Foote's poor social judgement skills and insufficient reasoning abilities.
On February 20th, Foote is given a polygraph test in Austin that he passes leading the defense to claim that this is "overwhelming proof" that he wasn't responsible for the murder.  Even the district attorney, Mike Holmes, was quoted in the paper as saying it was possible that Footes indictment would be dismissed.  Even though it wasn't until 1998 that a court decision ruled the results of a polygraph test inadmissible as evidence in federal courts they still could not be used in court in 1984.
After refusing to grant a defense motion to dismiss the murder charges a date was set for the trial of Johnny Foote for the murder of Velma Nesset on May 14th, 1984. During the jury selection of the trial, one of Foote's attorney's, John Hoestenbach, hinted that he would draw a link between Nesset's murder and the confession due at the time, Henry Lee Lucas and Ottis Toole.  You remember them, they were the two drifter, criminals who decided after one of them, Lucas, was convicted of an actual murder, to go around claiming responsibility for any old murder the Texas Rangers threw at them. Resulting in the tangled web of unsolved murders throughout the state.
During the trial the jury heard how Foote told investigators that he joined the search for Nesset and had checked the culvert where her body was found but claimed not to have seen her.  Photographs were taken of the culvert at the same time of day that Foote was participating in the search to show how dark and hard it was to see what could have been there. Her body was found just a few minutes after Foote claimed to have search the culvert. Former co-workers of Foote's testified that they were with him at the time Nesset was attacked.  Felicia Gail Meyer testified that she picked Foote up along with his roommate/cousin, Wayne Kirk in her van around 4:15 a.m. and went straight to work.  Nesset's time of death was estimated by at authorities at 4:30 a.m.  Meyer went on to say that she, another co-worker Sally Smith, Johnny Foote and Wayne Kirk were all sitting around drinking coffee.  She said she remembered seeing Foote standing beside the time clock after they got to work but she never saw him punch in.  Meyer told the jury that she was a very dear friend of Velma Nesset.  She also said that she didn't see any blood on Foote later that morning.  A knife that was found about a month after Nessets murder in an employee's dirt parking lot was in evidence.  It was tested and found not to contain any blood or hair evidence.  Johnny Ray Foote was acquitted at the end of his week long trial.  The Odessa Police department made many mistakes during the investigation of Velma Nesset's murder, mistakes it took 38 years to rectify.
Billy Wayne Ludwigson was 20 years old in 1982.  He was charged with Nesset's murder in October of last year after DNA evidence from a cigarette butt matched a semen sample that was collected Nesset's body.  The 58 year old man was able walk around free for almost 40 years after brutally raping and murdering a sweet, kind, soft spoken woman just trying to make her way to work.  What was released in the paper regarding her murder was different than what was being reported at the time.  I feel like back then a victims integrity (for lack of a better word) was thought to be preserved if certain details were left out of the information given to the public.
It turns out that when Velma's body was found she was found lying face up stabbed in her throat with her shirt lifted, exposing her torso and her pants and underwear pulled down exposing her genitalia.  It was said at the time that there was no evidence of sexual assault so I'm not sure what was going on with that.  It could be that the science wasn't advanced enough at the time.  The semen sample that was used to obtain a DNA profile was found on the exterior portion of a jacket that Nesset wore.  The profile that was obtained from the semen stain was then submitted to Combined DNA Index Systems.  The defense for Johnny Ray Foote brought up the miss-steps of the Odessa Police department by not investigating further into a statement that was made by one of Nesset's coworkers.  During the initial investigation the coworker reported that on April 19th, 1982, at 4:30 a.m. on her way to work she saw a white male between 18 and 19 years old of medium build with dark, way, neck length hair, running north on Tanglewood lane in the immediate vicinity of the culvert where Nesset's body was discovered.  Billy Wayne Ludwigson was arrested on March 13th and March 28th of 1982, just weeks after Velma's body was found.  In the mug shot taken at the time of the arrests it is clear that Ludwigson's physical characteristics match the eye witnesses description of the man she saw running away from the area of the culvert on Tanglewood Lane.  In July of 2020, Ludwigson was living in Colorado.  Authorities performed physical surveillance of their new suspect on July 10th, at his last known address and were pleased to discover that they were at the right place.  They watched him walk to a restaurant nearby and pick up some food to-go and walk back home.  He was positively identified using known information on scars, tattoos and by using photo comparisons.  Ludwigson was sitting at a public bus stop a day later rolling a cigarette.  After he smoked the cigarette he threw it on the street in front of the bench he was sitting on.  Authorities recovered the butt and submitted it for testing, the results of which were a DNA profile that was obtained and then matched to the semen sample from Nesset's jacket.
More From The Basin's Classic Rock