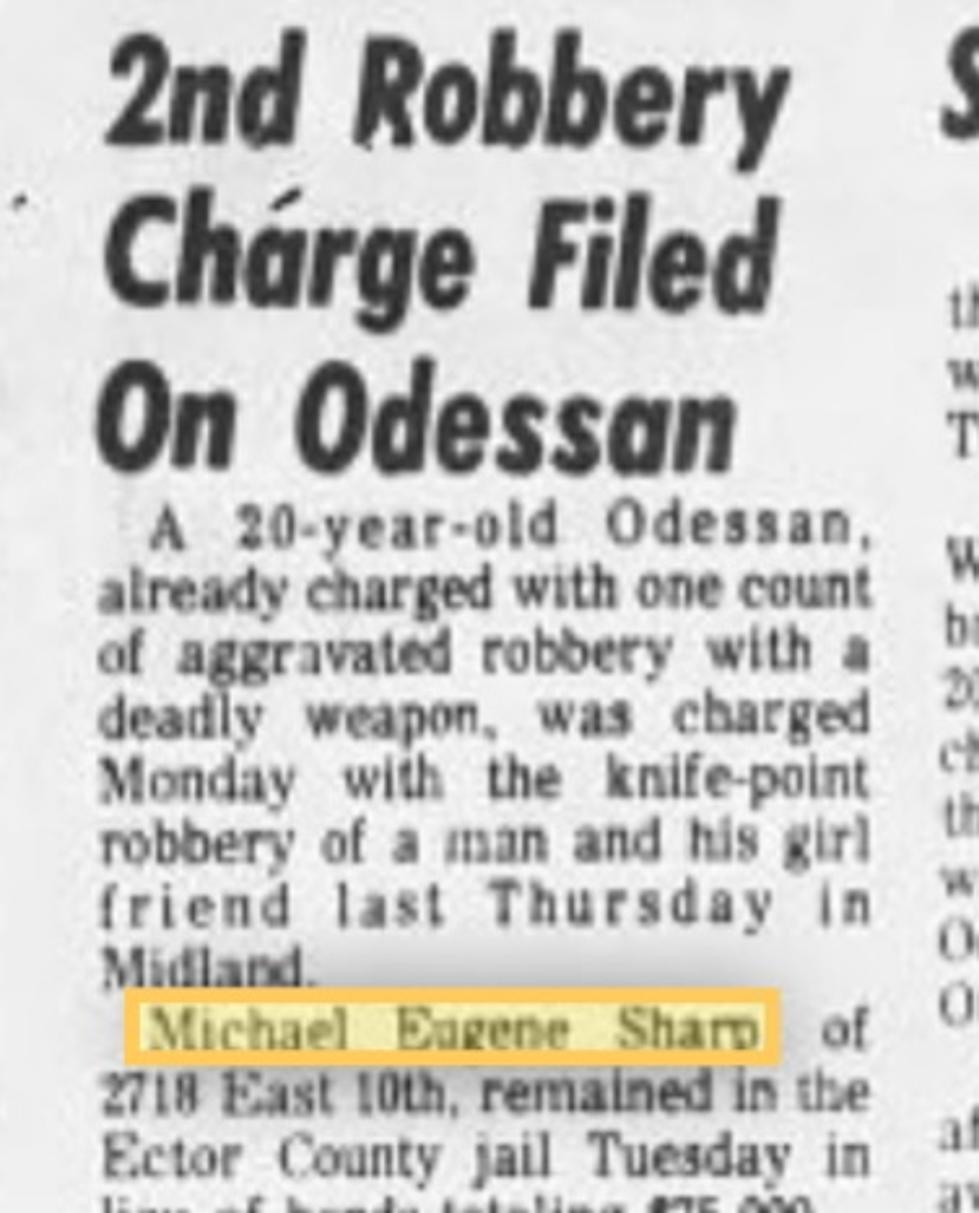 365 Days of Texas True Crime: Monster pt2
Screenshot of article in The Odessa American Sharps 1975 cases
In March of 1975 a man known as Michael Owensby knocked on Mrs. Mary Allred's door at 7003-A West 29th early on a Thursday morning.  Her husband had already left for work for the day and she was alone.  He asked if Jessie lived there.  When Mrs. Allred told the stranger that no one by that name lived at the address he left.  An hour later the same man burst through the front door, smashed the housewife in the face and tied her to a bed with an extension cord.  Keep that in the back of your head for later (the use of the extension cord).  He ransacked the house, stole money and items of value and left.  All while her six month old baby slept, undisturbed, in another room of the house.  The woman would tell police that although she could see that he had a gun, he didn't threaten her with it.  That might be good to remember as well. When showed a picture of the man known as Michael Owensby she positively identified him as the man who had assaulted and robbed her.  That man was Michael Eugene Sharp, he was 20 years old at the time.  Police picked him up at a local bar just a few days after the robbery.  According to officers on the scene when they showed up in the bar to arrest him "He was so surprised, he spilled his beer", detective Terry Tyree said in a quote published in The Odessa American on March 9th, 1975.
He was charged and convicted of two counts of aggravated robbery with a deadly weapon and theft by check and received a 15-year sentence.  Of which he served about three years and was paroled to Odessa on 7/5/1979.
Sharp was still on parole when he abducted Brenda Kay Broadway and her two young girls from an all night car wash in Kermit, Tx.  To remind you Brenda was a single mom, working at the local VFW.  Her girls didn't see her often before they went to bed but that night was a sweet surprise.  Their mom had got off early and wanted to spend some time with her girls so they all went to wash the car together on a late night adventure.  She was just 31 years old and her girls 14 and 8 when Sharp destroyed their lives forever.  Only Selena, the oldest of her two daughters would survive the night and be the key to catching what most people believe was a serial killer and a true monster.
Now we're to the part where Sharp has been arrested.  He's taken into custody and charged accordingly.  Well….kinda.  The trial is moved to Lubbock because of the massive publicity of the case, which happens so there's nothing out of the ordinary about that.  What is out of the ordinary, however, is making a mistake on a case of this level, but that's exactly what happened.  A tiny, but not so tiny, clerical error, would force the judge to reduce the charge against Sharp from capital murder to murder.  Which means instead of possibly facing the death penalty he's facing a term of 5 years to life.  Regardless of the mistake (which was a missing word in the indictment=intentional) Sharp was still convicted and sentenced to murder and as they should, a re-indictment on capital murder was sought immediately after the trial was over.
And I'm just gonna break from the professional and appropriate story telling style that something like a murder of this nature deserves and say that the people of Kermit Texas were PISSED to find out that the judge had to reduce this monster's sentence all because someone left off one word, and not just any word like a "at" or "The", one of the most important words, "intentionally".  I'm talking these good people were ready to riot.
They were lined up and down the streets at the courthouse when they brought this man back from Sweetwater and to be honest I'm surprised they didn't string him up right then and there.
Honestly, it's a good thing they didn't though.   Shortly after his conviction, Detective Jerry Smith began to talk to Sharp about other area unsolved cases. He made a deal with the monster, the agreement was to keep Sharp's identity anonymous and he would lead them to locations of bodies.  That's how they found Blanca Guerrero, the 17 year old, pregnant, newlywed from the beginning of our story that went missing one day after dropping her sister in law off at work. A man in a blue truck was seen near a girl fitting Blanca's description just  moments before she disappeared.  Although no admittance of guilt was made, Sharp lead authorities to a secluded area in Andrews county near the Ector County line where Blanca was found buried shallow in the west Texas dirt.   She was found much the way Brenda Kay Broadway and her 8 year-old daughter were found, face down in the ground with their clothes thrown on top of them before they were covered in a few inches of dirt.
Detective Fostel surmised there was a good possibility that Sharp was also involved in the  deaths of two oil fields workers whose bodies where found in graves similar to the previous trio.  William Lawrence McNew, 27, and Tammy Lee Davis, 20, were found May 13, 1982, they had both been clubbed to death with a shovel.  During the extensive talks with Sharp, Dt. Smith was very tight lipped about any of the information obtained from the convicted murderer who was about to face another trial, one that could possibly give him the death sentence.
The deal they made, however, to keep Sharp's name anonymous, was broken when a Lubbock newspaper, who had already agreed to sit on the story for a few days at the request of the detective,  prematurely published a story that basically spilled the beans on Sharp leading authorities to the body of Blanca Guerrero.
After that negotiations didn't go well, but as we would find out not just because of the agreement between the monster and the detective that was broken but also because of, according to Sharp and confirmed by Fostel, Winkler County District Attorneys refusal to forego the death penalty in exchange for information.  Sharp held on to bitterness at Fostel's decision all the way up until his death, saying he would've given him give more bodies/graves had he just been less stubborn.
Michael Eugene Sharp was executed on November 19th, 1997, while the girl who got away watched behind the glass that separated her from the man who stole her mother and her 8 year-old sister from her 15 years ago.  I decided not to spend any time on this part of the story because it made me mad but there was a faction of supporters at one point rallying in the hopes to save Sharp from executions. According to them he was a changed man, turned his life around while in prison by giving himself to Jesus and all that.  I'm not saying that doesn't happen because I'm sure it does and I'm not trying to be disrespectful to those who have, in fact, turned their life around while in prison and given their hearts to the Lord.  I'm saying this man was a monster and what he did was so heinous and so depraved that I don't care what he did while he was in prison.  The group of people who were picketing and petitioning and speaking out on his behalf before his execution should have been showing their support for all the people who's lives he ruined by stealing their futures when he brutally murdered and sadistically tortured their loved ones.  Yes, tortured, I didn't tell you everything he did to the girls…..I couldn't make my fingers type the words and even now I find myself ready to stop typing.
Now the mystery part, the unsolved element that holds at least some hope that we might still be able to find a conclusion for other families.  As I said Sharp claimed he could've given up the location of five more graves.  The FBI believes that he could be responsible for at least 8 murders.  If we check off Brenda Kay Broadway and her daughter Christy Elms, that leaves five.  I wonder if he was factoring in William McNew and Tammy Davis? He made the statement after he led authorities to the body of Blanca Guerrero so we know at least he wasn't including her.  I have to believe if he find out about a story that ran in a Lubbock paper, surely he knew when the bodies of the two oil field workers were discovered.  So let's go with that, which means there are, potentially, five unsolved deaths in the Permian Basin that Sharp himself hinted at being responsible for and the FBI seems to agree.
Who wants to do some digging? Oh yeah, me and I already did so here we go!
Michael Eugene Sharp was paroled from prison to Ector, co. on January 27th, 1979.  He was arrested on June 16th, 1982. That's a little over three years he was out prowling West Texas. That's about the same amount of time he served of the 15 year sentence he was given when he robbed a housewife while her husband was at work in 1975.
The victims we know about were, stabbed, clubbed, and strangled.  When he broke into the house in 1975 he tied a housewife up with an extension cord and didn't use the gun he had to threaten the victim.  It's possible Sharp used a firearm in other homicides but based on his known victims it might be a better place to start if we narrow the search down to victims whose deaths did not involve the use of firearms.
A real dive into this will take me a few days but right off the bat my first thought, ever since the first time I read about Michael Eugene Sharp, is straight to Beverly Luttrell.  A 46 year old woman who was found partly clothed, strangled to death with a phone cord on her bed in a trailer home in Odessa in March 1981.  It's the phone cord that made me think of Sharp.  He uses whatever he has close to him when he's committing a crime, remember I told you to remember the part about the housewife being tied up with an extension cord? It seems to me that even though he knew what he was going to do before he did it, he didn't prepare for it.  Back when Henry Lee Lucas was willfully confessing to every unsolved case in the U.S. he confessed to Beverly's murder.  However, with the release of the "Lucas Report" it was fairly easy to discover through the use of timelines and receipt evidence, that he wasn't anywhere near the area when Beverly was killed, so he wasn't responsible for her death but someone was, and that someone was never found.  In fact her name doesn't appear on the Ector Counties Crime Stoppers list of unsolved murders and there didn't seem to be much of an investigation into who was responsible at all after Lucas falsely confessed to her murder.
I think there's a strong possibility that Michael Eugene Sharp was the one who strangled Beverly Luttrell with her phone cord and then left her half clothed on her bed.
Ok, I'm off to dive in to three years of crimes in five or six west Texas counties, I'll come back with what I find.
More From The Basin's Classic Rock