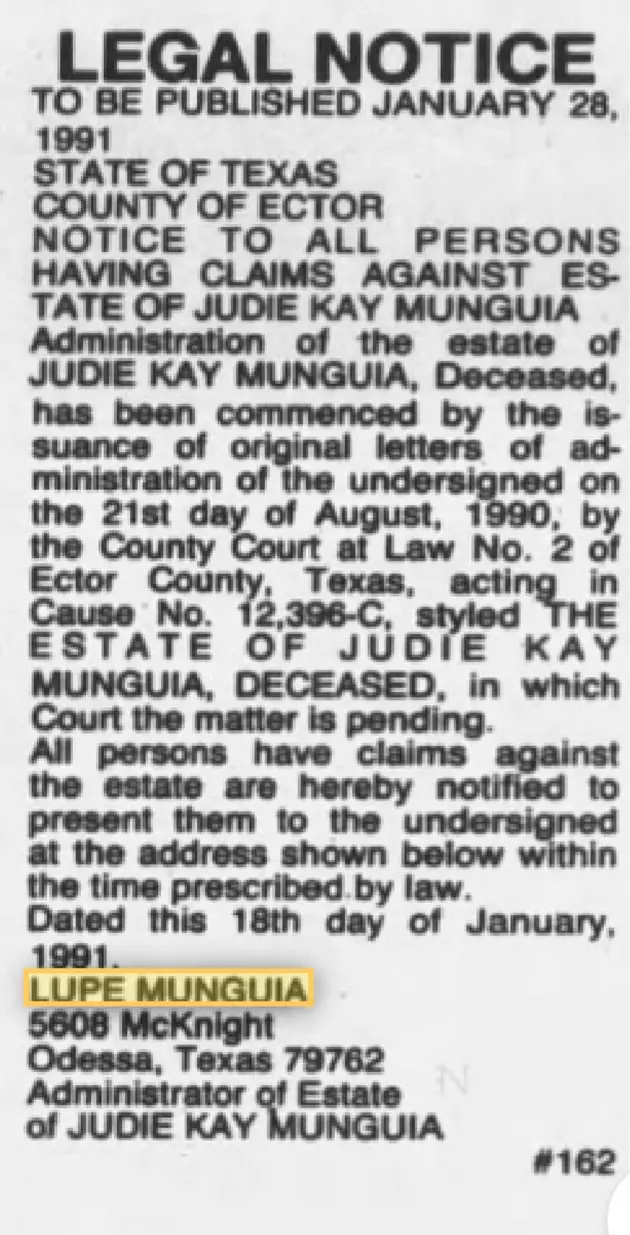 365 days of Texas True Crime: Judie Extra
Screenshot of legal notice published in the paper
Extra: Judie
Yesterday I was thinking too hard about all the different Ector County cases I've done research on and couldn't figure out if I was crossing some information I had uncovered.  So I spent a few hours looking some stuff up last night. I realized I was crossing two people…I was thinking something I found out about a person involved in a different case was someone involved in the Judie Kay Lowery Munguia case and it wasn't.  However, in doing so I found some additional, very interesting information out on the husband of Judie Munguia.
Lupe Munguia was the husband of Judie Kay (Lowery) Munguia who has been missing now for 40 years.  According to her husband, she was last seen on May 28th, 1981 around 1 a.m.  He told police that she told him she was going to visit a friend in Oklahoma and would be gone several days.  She wasn't reported missing until June 6th and after investigation it was found out that her vehicle showed up at an Oklahoma airport parking lot on the very next day (the vehicle wasn't discovered for months but through investigation it was found that it had been in the parking lot since June 7th).  If you read the article yesterday you already knew all that.  How about some stuff you didn't know?
This is just something really sweet that I found, during the time that Judie was at home with Michael, her son, she was able to make some really precious memories with him while he was in baseball.  Apparently his love for baseball was a journey that Judie was able to start with her son.  Judie gave something to him that he was able to take with him throughout the rest of his life.  Michael Munguia went on to coach baseball at Odessa High School, Kermit High School, and thought countless baseball camps, and was even a defensive coach for Odessa High School football.  This little additional bit of information was very soothing to me, if that makes sense.  She was able to see Michael's spark for sports right when it started and was likely the reason for all that came after.
Ok no more warm and fuzzies.  Here is what else I found out.
I'm just going to go ahead and list all the times his name shows up in the paper.
Sunday, June 2nd, 1968- Lupe Munguia was in the paper for his service.  He was part of a series called "Permian Basin Men in the U.S. Military Service" he is listed as living at 1515 North Muskingum, stationed at Fort Carson, Colo., after returning from duty in Vietnam.  It indicated that his wife and son (Judie and Michael) former Odessans, were currently living in Colorado Springs, Colo.
After that he shows up in the paper countless times for his participation in the a racing organization that was gaining popularity at the time.  People used to head out to the Odessa Raceway Park Penwell drag strip for races every weekend and Lupe was out on the track, winning.  There are stories with him listed more times that I care to list in regards to racing and winning and so on…so the take away is that he did a ton of racing, and he won a fair amount races.
On December 7th, 1975, there is an ad in regards to a move of locations for "Lupe's Body Shop" to the new locations at the corner of McKnight and Stoddard St.  I believe he started his shop in 1973.
His name shows up lots more times after that for racing and then he's in the stories about his missing wife in 1981.
Tuesday, July 30th, 1984-July 30-Burglary: Lupe Munguia, 5608 McKnight Driver, reported video cassette recorder valued at $2,000 taken between July 24th and Monday……ummm…..you mean when you bought it right when they came out it was $2,000? Because in 1984 you could get a brand new video cassette recorder for like $300….just sayn
He's back in the paper again several times for racing, specifically funny cars.
Michael Munguia's wedding engagement and marriage announcements show up in October of 1986 and February of 1987.
Saturday, June 27th, 1987 – Police Beat – Burglary of a vehicle: Lupe Munguia reported a pair of T-Tops valued at $1,200 taken between 10 p.m. Thursday and 6 a.m. Friday from a 1982 Corvette parked at 5608 McKnight Drive.
Tuesday, February 7th, 1989 – Odessa Police – Feb. 6 – Criminal Mischief: 5608 McKnight Drive, Lupe Munguia reported $1,200 in paint damage to a 1988 Chevrolet pickup between 7 p.m. Saturday and 8 a.m. Sunday
Saturday, January 6th, 1990 – Odessa Police – Theft: Lupe Munguia reported cash estimated at $2,000 taken from a residence in the 5600 block of McKnight Drive on Sept. 26.
Sunday, July 15th, 1990 – another story on Judie Munguia is ran in The Odessa American.  This is when Lupe starts to refer questions about his missing wife to his lawyer, Bill Bowden. Judie has been missing at this point for 9 years.
On Monday, January 28th, 1991, there is a legal notice posted in the paper. It reads as follows:
LEGAL NOTICE
TO BE PUBLISHED JANUARY 28, 1991
STATE OF TEXAS COUNTY OF ECTOR
NOTICE TO ALL PERSONS HAVING CLAIMS AGAINST ESTATE OF
JUDIE KAY MUNGUIA
Administration of the estate of JUDIE KAY MUNGUIA, Deceased, has been commenced by the issuance of original letters of administration of the undersigned on the 21st day of August 1990, by the County Court at Law No. 2 of Ector County, Texas, acting in Cause No. 12,396-C, styled THE ESTATE OF JUDIE KAY MUNGUIA, DECEASED, in which Court the matter is pending.
All persons have claims against the estate are hereby notified to present them to the undersigned at the address shown below within the time prescribed by law.
Dated this 18th day of January, 1991.
LUPE MUNGUIA
5608 McKnight
Odessa, Texas 79762
Administration of Estate
Of JUDIE KAY MUNGUIA
#162
Then the juicy stuff.  On Thursday, July 16th, 1992, a story in The Odessa American titled "Owner of body shop names in FBI probe" publicly names Lupe Munguia, owner of Lupe's Body Shop, 5608 McKnight Drive, as a co-conspirator in a scheme involving more than $1.4 million dollars' worth of stolen parts.  The FBI raids the body shop on June 26th.  It was reported in this first story that $140,000 in cash, Ford motor transmissions and "other items related to the investigation," were seized but no arrests were made at the time.  When Lupe is asked about his name being listed in an affidavit from the FBI as a co-conspirator in a huge theft scheme, he refers all comments to his attorney Bill Bowden.  You remember him, he's been Lupe's attorney/lawyer, whatever, for a while.  According to the story, authorities in Lorain County, Ohio had known about a large-scale theft of automobile parts and components, including engines and transmissions from the Ford Assembly Plant in Lorain for years.  Starting in 1991 more than 100 diesel truck engines and 1,150 steering gear boxes were taken from semi-trailers parked in the plant's shipping and receiving yard.  Plenty of other stuff was taken, including air conditioner compressors, transmissions, radios, wiring harnesses, car and truck tires ect…  Ford officials were having a hard time figuring out how many items were taken but they were aware of the internal nature of the theft problem.  The only person jailed at the time was Coy "Randy" Troutman of Elyria, Ohio, he was also named in the affidavit.  He was an auto worker.  The charges at the time were for engaging in a pattern of corrupt activity and parole violation, bond totaling $105,000.  According to the story the loads of stolen items were being driven to Texas to Lupe Munguia where he would then sell the stolen auto parts/components for profit.
February 25th, 1995, Lupe Munguia, 48, plead guilty in federal court for his part in a multi-million dollar scheme. He was facing up to 10 years in federal prison.
Lupe stays active in the community however, in stories published in the paper after his guilty plea so he may not have had to spend any time at all in prison.  He celebrates the 25th anniversary of the body shop with a ribbon cutting on October 6th, 1998 where he was joined by the Odessa Chamber of Commerce Ambassadors.  After that his name appears again and again in connection with the body shop and with charitable organizations and so on.   Then another story shows up in 2000 about him owning and operating Lupe's Body Shop for 57 years at the same location at 5608 McKnight Drive so maybe he has more than one location or????
He shows up a ton after that, again, in relation to the body shop and charitable donations ect… What I didn't find information on was whether or not he ever remarried.
Like I said, I'm going to try and get ahold of the search warrant information and if I do I'll be sure to post an update.
More From The Basin's Classic Rock